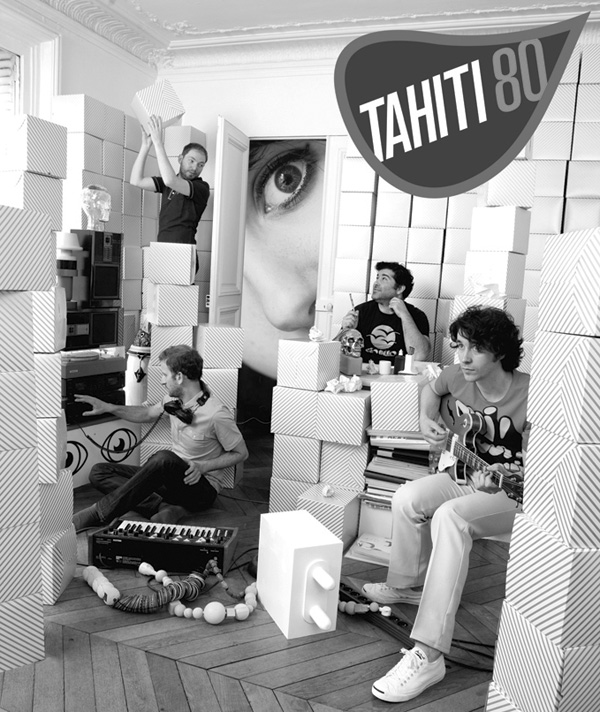 French band Tahiti 80 is set to release their fourth studio album, "Activity Center," on Nov. 24. These feisty Frenchmen have crafted another euphoric pop masterpiece, rich with chiming guitars, twinkling keyboards and waves of pure fist-pumping pop rock. From the opening track, "24×7 boy," it's clear we're in for a bit of a changeup from their last album, 2005's "Changes," as the band has opted to forgo the big beats that won them a spot on the 2007 video game FIFA official with their single "Big Day." They have steered toward a more raw live band sound. Don't fret party-goers, there are still beats to bop along to, just pushed back in the mix slightly.
Tahiti 80 formed in 1993 in Rouen, France and is made up of vocalist and multi-instrumentalist Xavier Boyer, guitarist Mederic Gontier, drummer Sylvain Marchand, and bassist Pedro Resende. Although they've been making music since 1993, Tahiti 80 first garnered attention with their 1999 single "Heartbeat," which rides along on a bubbling synth line and skittering beats that are perfect for a rollerskating rink. Their 2005 release, "Fosbury," was another experiment in finely produced danceable rock songs with a thumping electronic twist and some gentle little folk songs peppered in to round out the tracklisting.
Once "Activity Center" gets rolling, it really doesn't slow down. Like a horse chomping at the bit, Tahiti 80 plays potential singles one right after another. First, it's the contagious love tune, "All Around," that wouldn't be out of place on a montage video of people enjoying an afternoon at an amusement park. Then the album moves to its first single, "Unpredictable," where Boyer laments over a woman in his life who is, you guessed it, unpredictable. The cut and paste animated promotional video for the tune, featuring Boyer navigating the watercolored French countryside searching for his lost love, accents the tune perfectly with its glittering crescendo and cheesy smirks and winks. Then it's on to the guitar squealing "Brazil" that should get even the most rigid music listener tapping at least one toe.
Following that, the French quartet drops the beats per minute down a bit for the swaying slow song "Fire Escape." Not wanting to lose your attention, Tahiti 80 quickly diverts you to the progressive funk of "One Parachute." Following this slow number are a few tracks that are finely made but don't stick as much as the earlier songs. It's not until "Come Around" that the listener's attention is grabbed again with energetic guitar riffs and a frenetic horn section as Boyer earnestly requests someone to "Come Around." From here the album floats to its conclusion with the gently jangly "Whistle," before coming to a full stop with "Ear to the Ground," a song that captures the mood of a lazy late afternoon walk through fallen leaves.
"Activity Center" distills both Tahiti 80's precocious songwriting and raucous playing into one easily digestible package. There are moments of pure melodic beauty and moments of absolute wall of noise bliss, but it never gets too far away from the cleanly produced songs that Tahiti 80 has become known for.
Tahiti 80 sounds like they're having so much fun on this album.Who could blame them for dropping the processed Casio beats and going live with their uplifting bubble gum pop meets pop rock tunes?