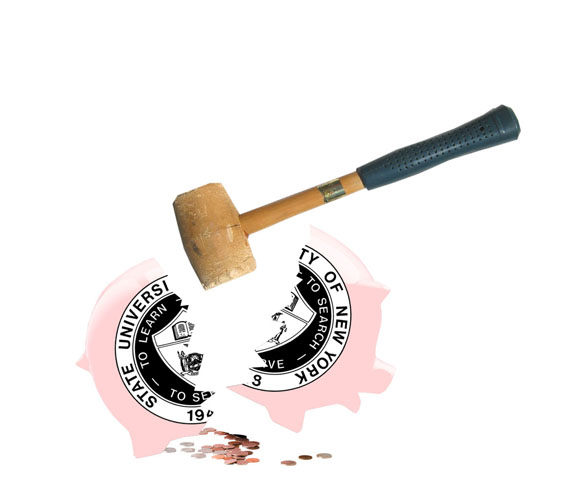 Oswego State students will be paying $100 extra in tuition next year. The increase stems from a decision of the State University of New York's Board of Trustees, the group responsible for setting SUNY-wide policy. On Nov. 10, they called for a "rational" tuition increase of 2 percent across the SUNY system.
However, unlike past years, the money garnered by the $100 increase will stay on SUNY campuses.
The increase was endorsed in an effort to tie tuition prices to the state higher education price index—meaning the extra revenue will most likely go to fight increasing costs due to inflation. SUNY policy-makers decided to instate smaller, more frequent tuition hikes, rather than jumping the price by a double-digit percentage every few years.
The move is unrelated to the plan New York Gov. David Paterson presented in October to cut another $90 million from the SUNY system. The proposed plan will also cut $53 million from public universities in New York City. Another $33 million would be taken from community colleges and potentially $26 million may be slashed from New York's Tuition Assistance Program, which aids many SUNY students paying for college.
But funding controlled solely by the executive has already been cut, said Susan Camp, chairman of Oswego State's Faculty Assembly.
"The $90 million [from SUNY] is gone," Camp said.
If approved, the plan proposed by Paterson would reduce SUNY funding by 11 percent.
"Public higher education in New York State has been cut more severely than any other state agency," said Barbara Bowen, president of the Professional Staff Congress during a rally at Hunter College on Oct. 27.
Nicholas Lyons, Oswego State's vice president of administration and finance, said the cuts have been so deep because "we're one of the largest state agencies and we have the ability to charge for our services."
Students are reacting to Gov. Paterson's proposed plan in the legislature, which would likely necessitate another tuition increase. But so far, their advocacy has been tepid at best.
"I don't get financial aid, so it's going to be hard for me," said sophomore psychology major Serena McGrath.
"As it is, I will have to work three jobs over the summer to afford to come back here [in fall of 2010]," said Melanie Farnham, a freshman adolescent education major.
In concert with other SUNY student associations across the state, Oswego State's Student Association has taken the lead in fighting the tuition increase on campus. They recently held a rally in the Campus Center Food Court intended to spur student action, but only 20 people showed up, according to those in attendance.
However, S.A. officials have been much more successful with a petition strategy. In past weeks, they have set up tables in the Campus Center and solicited signatures and information to launch an e-mail campaign. Signatures from Oswego State students have joined more than 14,000 from public universities across the state, S.A. Vice President Stefen Short said. The petitions have since been sent to Gov. Paterson.
Faculty and administration are not about to take Gov. Paterson's proposed cuts lying down.
Oswego State President Deborah Stanley remains in contact with legislators to advocate for less steep cuts, Lyons said.
Faculty Assembly is also looking for ways to cut costs on campus, Camp said. She said they were looking at conserving books and software, as well as using grants to apply for additional funding.
Camp said that filling up classes is another cost-saver. Classes with fewer students fail to maximize on the cost of putting them on each semester. Camp said she would work to lower the number of classes with less than 10 students.
Meanwhile, a committee of both Oswego State faculty and students is being established to find creative solutions for the potential tuition increase.