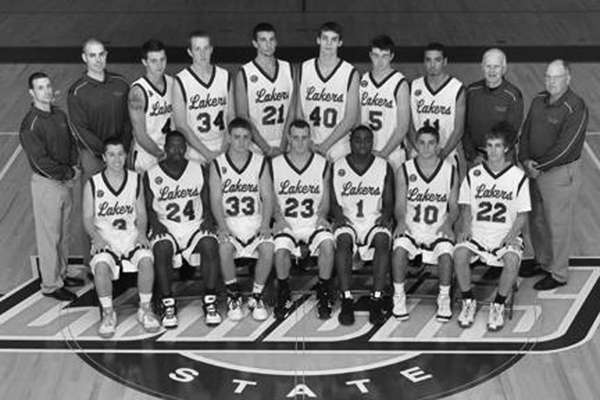 This semester has brought some significant changes for one of Oswego State's winter men's sports teams — and it's not the one that plays on a sheet of ice. The men's basketball team graduated standout guards Tommy Downing and Kyle Reuter, its two leading scorers from a season ago, while coach Kevin Broderick left for his alma mater, Nazareth College.
In addition to a new head coach, the seven returning players from last year will also be working with two new assistants. Former Laker standout Nick Perioli has joined the coaching staff along with Kenny Sturges, replacing Sean Broderick and former Laker Erik Roberson.
With such a seismic shift in coaching, a palpable — if not drastic — shift in team philosophy is expected. Under Broderick, running the floor, 3-point shooting and playing an up-tempo game were Oswego State staples. Under new head coach Adam Stockwell, that free-flowing system is expected to give way to a much more conventional, structured style.
"Strong post players, strong point guard play and guys who can really put the ball in the bucket are the criteria we were looking for at the tryout," Stockwell said.
That shift was evident by the roster makeover heading into the season. Stockwell and his staff had 28 players try out for 13 spots. In the process, three players from last year's team were cut: Adam Clute, Ryan Markley and Jamal Lightbourne.
Last year, Oswego State featured just one front-court rotational player over 6'4" in Chad Burridge. This year, they can potentially feature three, with Burridge, Hayden Ward and Brenden Nollet on the roster.
With the focus of the offense now squarely on them, the Laker forwards are excited to showcase parts of their game that perhaps would not have been used under the old guard-oriented system.
"It's a different look; I think it's a better look," senior forward Stanley Francois said. "I'm going to have a little more freedom to drive to the basket and kind of create for myself a little bit."
As for the other returning big man from last year, Burridge will also see his already considerable role with the team expand this year.
"I feel like I'm going to have more liberty to play outside, to attack the rim instead of just being a total low-post guy," Burridge said.
Both Francois and Burridge are understandably happy about the change. But equally important for them, and more importantly the team, is the fact that even the guards seem to endorse the new philosophy.
"It's going to be a good asset, I think," sophomore point guard Mike McSloy said. "I don't think the point guard needs to be shooting 25 shots a game in this offense; take the shots when they're there and run the offense."
The play of McSloy will be a key factor in determining the success of this Laker team. Having spent last season in a reserve role learning from and practicing against one of the premier guards in the SUNYAC in Downing, McSloy now seems to be positioned to take over for Downing at point guard.
"He is in a good position to seize that position right now," Stockwell said. "Mike is just a little ahead of the other guys because of that experience."
McSloy brings ball handling and explosiveness to a Laker team that desperately needs both. With the graduation of Downing and Reuter, the Lakers will look to players like McSloy, as well as others like Conor Monaghan and Jose Uribe, to break down the defense off the dribble and score going to the basket.
Sophmore guard Ryan Sheridan, who has played mostly wing since his early high school years, will also be seeing some time at point guard this year.
"The coach gave me a shot in practice one day and told me I was going to get some time at point [guard]," Sheridan said. "If he thinks I can do it, then I can definitely do it."
No one is denying the adjustments these players will have to make, including Perioli.
"There are a whole group of guys coming back who didn't get so much time last year," Perioli said. "Some will be playing a lot more, scoring a lot more, rebounding a lot more. They are going to have to adjust to that."
With so much formidable competition in the SUNYAC, Stockwell and his team will have to work quickly if they hope to compete at the same level that the program has become accustomed to over the last four years.
Since the 2005-06 season, the Lakers have finished third or better in the conference every year. In 2008, the Lakers were one win away from their first ever conference title. There is a lot to live up to; but if a few things work out right, this Laker team certainly has the talent to make that happen.
The Lakers will open up their season at home on Nov. 17 when they take on Utica College. In preparing for their first opponent, the team is taking a 'more about us and less about them' approach, concentrating on the fundamentals.
"We spend very little time preparing for other teams," Stockwell said. "Our hopes are that if we learn our basics on the defensive end, skill-wise and conceptually, we can cover most anything another team throws at us."