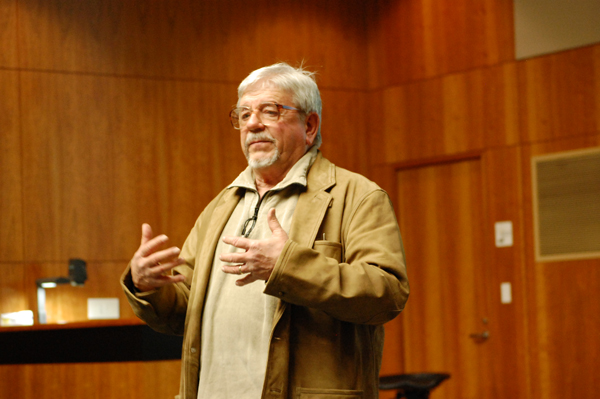 American poet, teacher and writer of fiction and non-fiction Lewis Turco returned to Oswego State on the afternoon of Nov. 2 to talk to students and adults about his experiences in the creative writing field.
Turco is responsible for founding the creative writing program at Oswego State in the mid '60s when he became the school's Director of Writing Arts. He is also partially responsible for the creative writing staff currently here at Oswego State.
Turco began his speech by talking about his fascination with Edgar Allan Poe and talked about how Poe influenced him to become a poet. It wasn't until his sophomore year in high school that he began writing short stories of fiction. One of his teachers in high school persuaded Turco to become a fiction writing, explaining that there was more money to be earned in fiction than in poetry. Turco listened to a degree, as he began writer works of fiction, but continued to write poems.
"Writing is writing," Turco said. "There is no difference between fiction and poetry and playwriting."
His discussions with students included readings from two of his published works. The first reading was from one of his most popular short stories of fiction, "Vincent," and the other reading was from his book "La Familia," titled "House of Dreams." Turco stood at the podium reading with confidence. The words flowed harmoniously out of the 75-year-old man with dark gray hair, a dark gray goatee and oversized glasses. The readings seemed to bring joy to the man who became a published author in just his sophomore year in high school.
Turco is most known for his "Book of Forms," sometimes referred to as the writing bible. "Book of Forms" consists of a collection of poetry forms compiled to help future poets improve upon their writing.
Turco considers himself to be a writer of both magic realism and parafiction. Magic realism means implementing fantasy concepts in a normal way, as if it were part of daily life. Parafiction is writing that has a mixture of both non-fiction and fiction principles.
"A writer needs to have a sense of the world when they write," Turco said. "They need to be able to understand what they're writing and how it can relate to life."
Despite having most of his short stories and poems published in magazines and newspapers, Turco had never had his literary works published by a book publisher until 2008. His book, "The Museum of Ordinary People," deals with a lifetime of experiences. He had begun writing the book in the mid '50s and continued to add to it up until last year. "The Museum of Ordinary People" is filled with imagery and symbolism and includes a wide range of genres. One such story revolves around a trip to the movie theatre by a family that is being torn apart by divorce. The child feels lost when each member of his family walks out of the theatre, leaving him alone.
"No one ever knows if [symbolism] will work," Turco said. "It's the writer's job to make sure that it works. I know what I'm doing as a writer. I know plot, character, atmosphere, theme and how to get from point A to point Z."
Turco spent the final minutes of the lecture talking about how incorporating plot, character, atmosphere and theme into a literary work will go a long way in getting published. But Turco stressed that getting a work published is not what a writer should strive for; a writer should instead strive to be a great writer and nothing more. If a writer has great skills, then publications will publish their works.