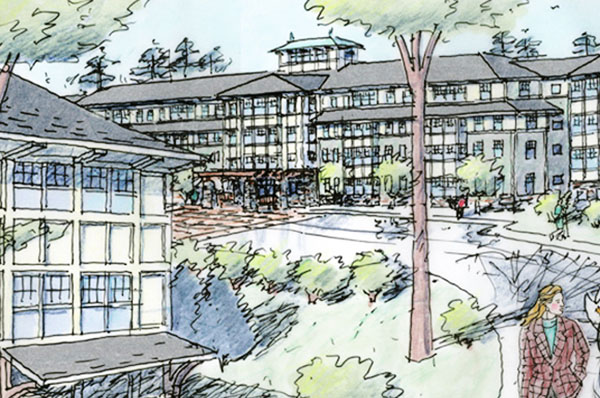 The opening of CollegeSuites, the new off-campus option for Oswego State students, has been pushed back a year. Students who have already paid the $275 deposit will receive full refunds, United Group of Companies, the developer of CollegeSuites, said.
The project is now projected to open in the fall of 2011. The original date was set for fall of 2010. Students being refunded their $275 will be given a $400 discount and room preference if they choose to live in the suites in 2011, United Group said.
"Pure timing pushed it back," said John Ball, executive vice president and chief operations officer of the United Group, the company behind the CollegeSuites.
Ball also blamed the sluggish economy for the delay. Specifically, he said conditions in the credit market were at fault.
"Credit markets are very slow to move, not completely restrictive, but slow to cycle," Ball said in an e-mail.
The slowness in the market ends up "taking weeks [if] not months off schedule [and] tumbles construction timing very easily," Ball said. "We were on tight schedule on our new Cortland facility this year but made it work."
It seems Oswego winter weather may also have played a part in the delay. Ball said beginning construction in the winter months would have been difficult in a location like Oswego. The extended opening date means construction will likely begin in the spring of 2010.
Meanwhile, some students who were looking into the CollegeSuites for next year are outraged.
"They said they were supposed to open next fall, so shouldn't they deliver on that contract?" said Amanda Scaramuzzino, a junior, marketing major. "If you're going to say you're going to open something then you need to follow through."
Despite the delay, senior, education major Ryan Bradwell said the suites will be good for students looking to live off-campus.
"It's good that they're building there," Bradwell said. "It's good competition for people who want single unit apartments. I have an apartment and I pay a little more than I want to."
But not everyone is so happy with the CollegeSuites option. Letizia Knapp, Student Association director of off-campus affairs, said she was wary about the construction and what she perceived as haste on the part of the United Group of Companies.
"They're pushing a lot of things, which is making the administration nervous," Knapp said. "The concern is how it is taking away from our city, which depends on our renters."
She said she was worried that the United Group of Companies would not be as community centered as the local landlords.
"We're going to have a major shift of off-campus students moving over there and [the CollegeSuites] are large, so it could be detrimental to the city," Knapp said. "They have to publicize how they are going to give back to the local area like a corporation should."
The project is still set to be built on Route 7, adjacent to Laker Hall. United Group said it will be equipped with several amenities, such as workout facilities, a café, study rooms, recreation rooms, cyber rooms and media rooms.
Blueprints indicate that students would reside in fully furnished apartment suites with private rooms. Full kitchens, 24-hour security and in-house programming areas are also planned for the suites.