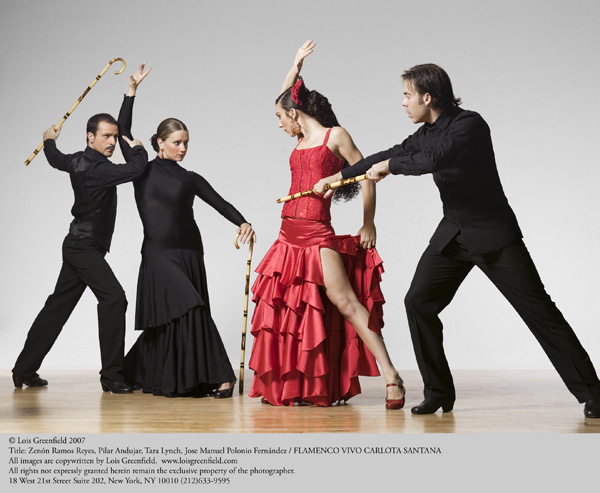 Carlota Santana started her dance company with the late Roberto Lorco in 1983. Their goal was to take flamenco out of clubs and make it into a theatrical art form by putting it on stage. In addition, they had a mission to promote Flamenco throughout the country and let people know about its part of the Hispanic culture.
"We felt that it would reach more people and be more inclusive of many different kinds of audiences," said Santana. Only 25 years later, Santana and Lorco's vision has been realized as one the premiere flamenco and Spanish dance companies in the U.S., Flamenco Vivo Carlota Santana.
When talking about the company's beginning, Santana mentioned that there weren't many professional Spanish companies in the country, let alone New York City where they are based. Their first performances were in late June of 1983 and were sold out for three nights. Santana believes that Spanish is much more popular since the early eighties and that Vivo Flamenco was an integral part of that shift. The company, which has another base in North Carolina, has shared flamenco to audiences all over the country and world since then.
An important component to the company is outreach education programs. "When I first started the company, I actually found out about arts education and it seemed to me that Spanish dance was one of the art forms that were made for arts education in that you not only have the dance part, you have history, and the culture behind the dance and you have geography that you can study in relation to Spanish dance and a language you can study," said Santana.
Vivo Flamenco works with all ages from kindergarten students to adults and they teach more than just how to dance. They discuss how the discipline acquired from learning an art form can translate into a sense of discipline in academics.
"It's a good carryover from what we teach in the dance class to other subjects in the curriculum," explained Santana.
Santana and Vivo Flamenco will be extending their education programs to Oswego State when they come to perform in Waterman Theatre in Tyler Hall on Thurday, Nov. 5. The performance will have a repertoire of traditional flamenco work, which has been featured by the company for a while.
In addition to the performance, the company will have various workshops on-campus, including a dance demonstration with Santana and members of the company and master class on guitar techniques with the company musician.
Santana promotes audience participation for the performances, which is discouraged in many formal events.
"In a classic music concert, you're not suppose to applaud between the first and second part of a number, and in flamenco it's totally different," Santana said. "If you like what's going on, you can applaud any time you want. Applause is welcomed and allowed and if someone gets in the mood and feels like yelling out an 'ole,' that is also welcomed."
Santana hopes that what Oswego State students get from this performance is an understanding of a different culture. Flamenco is actually a blend of many cultures, including Spanish, Arabic, Judaic and the Gypsies from India.
"You can hear that in the music. You can see it in some of the dance. I would hope that the students would be able to both see and hear all those different cultural influences."
The performance will start at 7:30 p.m. and tickets are $7 for Oswego State students.