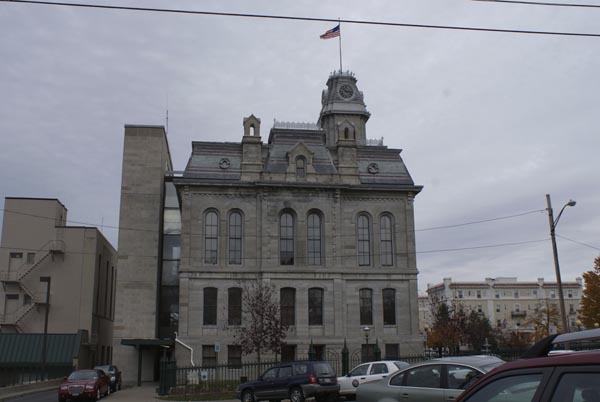 The special election to fill the congressional seat of the 23rd district, is in a virtual dead heat as the Nov. 3 Election Day draws near.
The seat was vacated by John McHugh, who resigned on Sept. 21 to become secretary of the Army, left his seat with a year remaining before another regular election.
Instead of holding primaries, each political party chose to handpick their nominee. The candidates are Democrat Bill Owens, Republican Dierdre Scozzafava, and Doug Hoffman, a conservative.
Political pundits are saying the 23rd district's election is made more important because it is the only congressional election in the U.S. this November. Its status as the lone race in 2009 has turned a lot of attention and money toward the district.
But that attention may not turn into votes. Low voter turnout is a likely consequence of the off-year election; that's because some voters who would have come out to vote for multiple representatives in traditional election year may just stay home.
"I would guess the turnout would be maybe 40 percent, whereas the turnout in 2008 was around 60," Dr. Bruce Altschuler, an Oswego State professor of political science, said.
Leonard Schick, a campaign worker for candidate Bill Hoffman and chairman of Oswego County's Conservative party, said despite the off-election year, he is expecting higher than normal results.
"I think it will be a good turnout," Schick said. "I'm really surprised about the enthusiasm of the people supporting Doug Hoffman."
Nola Heidlebaugh, Oswego State's civic engagement coordinator, said that low voter turnout, especially in college cities like Oswego, may result from a lack of awareness about the candidates and their platforms.
"Often these elections are very local, and students may not be well-informed about the candidates," Heidlebaugh said.
All three candidates running for the congressional seat in November are from northern New York.
The election also threatens to further push the Republican Party out of power in New York. Of the 29 congressional districts in the state, Republicans control only three, including the 23rd.
Oswego County, typically a republican stronghold, has seen a sweeping trend toward becoming a more democratic area, said Oswego County Election Commissioner William Scriber.
"The county over a period of years has been going from red to purple," Scriber said of the change.
If Owens wins, it would be the first time since 1871 that a Democrat has represented the district. McHugh, a Republican, won the seat with over 60 percent of the vote.
Owens, a lawyer from Plattsburgh, served as a captain at Plattsburgh Air Force Base. He comes from a long military tradition dating back to the Civil War.
Scozzafava is a member of the New York State Assembly from Gouverneur. She was appointed Minority Leader Pro Tempore for the Assembly Republican Conference.
Hoffman is an accountant from Saranac Lake. He was the corporate controller for the Lake Placid 1980 Olympic Organizing Committee.
According to Altschuler, this year's election stands to be different from past congressional races.
"You have a situation where you basically have two republican candidates and one democratic candidate," Altschuler said.
"Hoffman talks about himself as a conservative republican. Scozzafava is conservative on fiscal issues, but relatively moderate on social issues, especially abortion and gay marriage," Altschuler said.
Scozzafava's opposition to health care reform and her endorsement of extending President Bush's tax cuts make her more of a moderate candidate than some conservatives may be used to.
"She is a candidate who is more moderate than conservatives would like, so they put up Doug Hoffman for the conservative party," Altschuler said.
In most congressional years Hoffman would have run in the Republican primary to try to win the nomination, but because it is a special election and the party leaders selected the candidates, Hoffman didn't have an opportunity to run in a primary, so he is running as a third party candidate.
According to Schick, Hoffman's stance on controversial issues may give him an edge in the district.
"You have two conservatives (Owens and Scozzafava) that support abortion and they also support gay marriage and you have one who does not," Schick said.
"I think the Democrats are hoping those two will attack each other, divide up the Republican vote, and allow the democrat to win," Altschuler said.
As to what exactly is at stake in the upcoming election, Altschuler thinks it is less than people expect, but everybody is looking for signs.
"The Republicans have more at stake than anybody else because this has been such a safe district," Altschuler said.
"The democrats would be jubilant, but on the other hand if they lose it's almost a no risk proposition because they're just back to where they were before," Altschuler said.
The key to the election, said Altschuler, may be which candidate can get their supporters to come out and vote.
Representa¬tives from Owens' and Scozzafava's campaign were unable to be reached for comment.