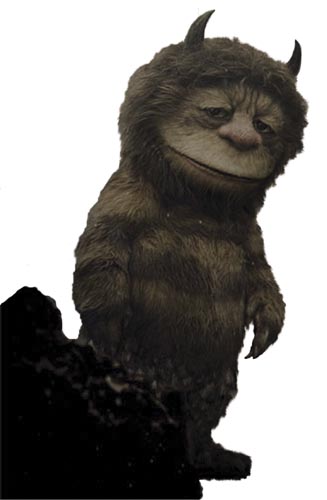 Living in the real world has nothing to offer Max in "Where the Wild Things Are," being ignored at home and having an absent father; what's a young boy to do but escape to a whole new world?
This much anticipated film is directed by Spike Jonze ("Adaptation," "Being John Malkovich"), begins with Max, played by Max Records ("The Brothers Bloom"), running down the stairs in his wolf-like costume, chasing after his dog while screaming and hollering like the madman he wants to be.
These opening frames set up a perfect example of how Max escapes from his world. He also enjoys building caves in the snow and forts in his bedroom and displays miniaturized play lands in his room.
"It's not my fault I'm this way!" Max cries out after biting his mother in a fit of unbridled raw emotion invoked by another man being in the house. He races out the door then down to the lake where he finds a boat and begins to sail away from everything he has perceived to be a reality.
Rarely ever has a film encapsulated the essence of a book before this adaptation. Jonze, who has worked tirelessly on this film for five years, has painstakingly recreated every vivid, artistic nuance of its source material. The look of the film alone is truly breathtaking: scenery and characters taken directly from the book are recreated with a sense of intrinsic precision that will surely delight young and old.
As each creature is introduced and developed throughout the movie, they begin to resemble parts of his personality and his home life.
The main character, Carol, is the angry side of Max. He, like Max, built his own happy world that he wanted to be a part of, where everyone was together. His mother is symbolized by Judith by the way she speaks to him, and wants attention for herself. Her lover, Ira, represents Max's mother's boyfriend because he is absent-minded as surely as Max perceives any man trying to get with his mother is.
The music composed by Karen O added just the right touch of magic and wonderment
to the film. Its haunting melodies whenever beautiful images appeared matched perfectly, like
the scene where the flowers are growing on the big house everyone built. The best part is that it doesn't have just one set emotion, reflecting the film's changing nature.
Considering that Maurice Sendak's original work consisted of only eight sentences, the fact that Jonze and screenwriter Dave Eggers were able to fashion such an accomplished film is nothing short of astonishing. Even those who didn't read the book will love this movie because of the bit of wild inside all of us.