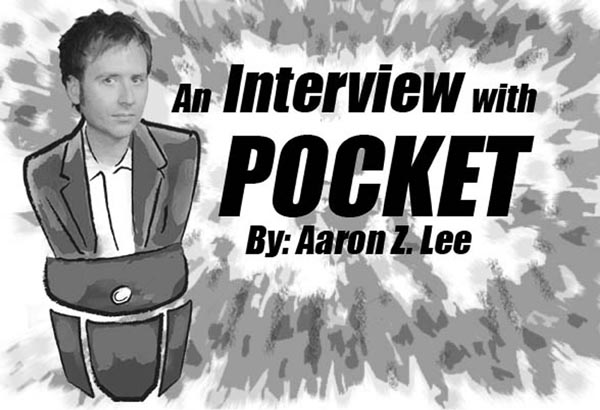 Richard Jankovich is a producer from Los Angeles who goes by the name Pocket. He is also the front man of electronic-pop outfit the Burnside Project who have put out two excellent albums; 2003's The Network, The Streams, The Harmonies and 2005's The Finest Example is You. Under the Pocket name, Jankovich has remixed Beck, Radiohead, Of Montreal, Elk City, Joanna Newsom and Cat Power.
Now, Jankovich has taken his music production skills one step further by enlisting the aid of current and classic vocalists and musicians for a series of singles for online release. Among the collaborators are Yuki Chikudate from Asobi Seksu, Steve Kilbey from The Church (known for their single "Under The Milky Way"), Mark Burgess from the Chameleons, Danny Seims from Menomena and many others. I had a chance to speak with the prolific producer about his collaborative process and where he sees Pocket going in the future.
Q. You've been doing Pocket remixes for a while. What prompted you to expand the project to collaborate with other artists on original songs?
A. The plan all along was to use remixes to cut my teeth and use those experiences to make me a better producer. I had always loved collaborating with other artists. The first Burnside Project album had lots of guest musicians on it like the Mendoza Line, Hub Moore and a bunch of friends and colleagues. I wanted to continue the idea but without my voice being a central part. So I started the remixes as a way to build my resume so other artists would see my capabilities. I guess it worked!
Q. How is the process of writing songs different or similar for Pocket than it is writing a song for The Burnside Project?
A. It couldn't be more different, actually. When I am writing for a singer, I think about them, their style, their voice, etc, while I am writing. While I definitely want these to be "Pocket" songs, I also tailor it to the singer's strengths. In [The] Burnside [Project], it's much more personal. I just take an idea and develop it without much thought to anyone else's role.
Q. For each track that you did, did you have a specific artist in mind that you wanted to sing on it?
A. It depends, in the beginning, before I had singers on board, I created a bunch of instrumental tracks. Now; however, I generally create a custom track for each singer. So I would say that, yes, I usually have a singer in mind, but I like to get them on board first.
Q. Did you know any of the vocalists personally or professionally before reaching out to them to provide vocals or were you just an admirer of their previous work?
A. I think most of them I did not know. I knew Yuki from Asobi Seksu, but most of them I was a fan of and met through this process.
Q. What's the most surprising thing you've found about sending out tracks to artists and having them send back the vocal tracks?
A. The most surprising thing is how simple it all is. Rarely does any artist hate the tracks I send or demand changes. They almost always record their part and then leave me to finish the track. The trust that they put in me is humbling.
Q. You worked with Steve Kilbey from the seminal Australian Post-Punk band The Church for your single "Hear in Noiseville" and you're lined up to work with another post-punk front man, Mark Burgess from The Chameleons on a future single. Are you reviving 80's alternative front men in a way similar to how Quentin Tarantino resurrects leading men from '70s TV shows?
A. It is very funny, but yes. I actually thought of Tarantino many times while working on this idea, nice of you to catch that! Not just "Men from the '80s" but in general I have wanted to work with people who have fallen from the limelight in recent years. These artists all still make great, compelling music and I want to help them get heard if I can.
Q. Speaking of "Hear in Noiseville," you just put together a video for the single with footage sent to you by Steve Kilbey and your own hand drawn signs. It looked like it was a blast to put together, do you have any plans to do videos for any other singles?
A. The video was so fun and easy that we are going to try to keep making them for all the singles. The Craig Wedren video is already in post production an d we are making plans for a Mark Burgess one too, since he is going to be in L.A. this week. As long as they are simple and fun, I would love to keep doing them!
Q. Are you planning anything special to coincide with the release of the singles this year like a DJ Tour or even just hanging out with any of the vocalists?
A. Well, I am actually going to be playing with Mark Burgess this week while he is in town for a Chameleons show. I am going to play guitar on a few songs and we might try to do the Pocket song. Other than that, I am still working on a live component for Pocket, it's very challenging as you can imagine.