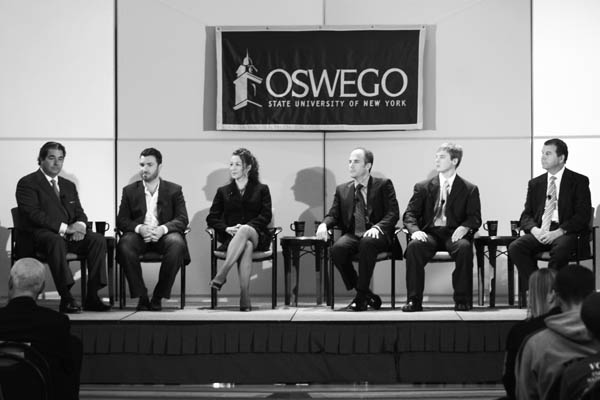 Media organizations have turned their gears toward the digital world, and if Wednesday's Media Summit was any indication, all roads lead through Facebook.
Touting the theme "Your GPS Directions to the Digital Media World," Oswego State held its fifth annual Media Summit on the role of the Internet and social networking in today's media. One of the most popular topics touched on during the open panel discussion was media and advertisers' use of Facebook to reach a broader range of clients.
The panel featured an array of figures from different forms of media, including Oswego State alumnus Mark Levy, vice president and creative director of NBC Sports and Olympics,; E.B. Moss, founder and principal of Moss Appeal; 1977 Oswego State alumnus and Media Summit founder Louis A. Borrelli Jr.; alumnus Rick Yacobush, a market sales manager at Clear Channel Radio; and Matty de Castro, an account director for Facebook.
Between newspapers creating Web editions, radios streaming their channel online, and sharp increase in the amount of bloggers worldwide, the amount of users seeking their news digitally has risen dramatically. Senior broadcasting major Robert Stobie, who also sat on the panel, said that the Internet's popularity, along with the mammoth amount of voices and opinions shared over the Web, has played a major role in how college-aged kids receive their news.
"My generation is becoming more selective, even about the news," Stobie said.
Facebook, only in its fifth year of existence, has become a wildly popular site among students and adults looking for both networking and an online way to keep in touch with friends. Its popularity has brought with it a massive potential for marketing, one that media representatives are still looking to utilize properly.
"Our advertisers want to know how are we going to effectively reach those in the younger [demographic]," Levy said. "It's through that social media opportunity that we can do that."
De Castro said the shift in approach that media organizations make into the digital age is exactly what the social networking giant was bracing for.
"Facebook can socialize content across all these different mediums," de Castro said. "Facebook is in this conversation not to take over or change advertisement but to be a compliment to a bigger overall strategic initiative."
Levy, who has worked on the past six Olympic games, said Facebook plays a large part not only in how they advertise the games, but also in how they prepare the games.
Calling it "a research tool," Levy said NBC even uses the site to connect with athletes.
"We have already reached out, got some information, made contact with [athletes] through Facebook and already started a relationship that we can then take to the next step."
With the digital age showing no signs of slowing down anytime soon, the role in the media has changed from competing against it to finding a way to utilize it just to survive.
"We need to make money," Yacobush said. "I'm the sales guy up here and to support these businesses we have to generate revenue. In our industry we are kind of in the front line because we jump into many digital media platforms."
Due to the massive changes occuring in practically all forms of communications, Oswego State has continued to try keep students updated on the increasngly popular forms of digital media to keep students entering the industry as prepared as possible.
"Anyone in any field today needs to understand that in a few years what they are doing might be obsolete," Oswego State President Deborah Stanley said.
"We are changing very rapidly. We are responding to the changes in the external world, but we are also initiating some of the changes on this campus."
Other topics touched on during the summit included the role of sustainability in marketing and social media networking and also the relationship between sports programs and their Web sites. The panel was followed by Career Connectors, which gave students a chance to network with various figures already entrenched in the communications field.