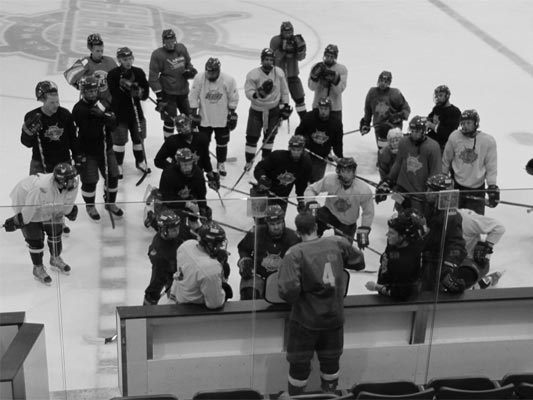 The Oswego State men's ice hockey team begin their 44th season with one lingering question: How do you replace the 13 seniors that graduated during the offseason?
Last year's SUNYAC runners-up have 14 new players on their roster (12 freshmen and two junior transfers) for the upcoming season. In total, the Lakers' roster includes 12 freshmen, seven sophomores, seven juniors and only four seniors.
Head coach Ed Gosek returns to the bench for his seventh season with the team and admits that it has been quite an offseason for him and his staff.
"It's been busy, there's no question," Gosek said. "It was a long process. It's a bigger class than we would like to replace. We keep saying that we would like to get the classes balanced out, which makes our lives easier. But the truth of the matter is we haven't been able to do that."
Oswego State lost almost twice as many seniors as any other team in the SUNYAC. SUNY Geneseo graduated the second most.
The lack of seniors on the team made the decision of who should be the captain and assistant captains easier on the coaching staff. This year's team will be captained by senior defenseman Tyler Lyon, along with assistant captains Brad Dormiedy and Neil Musselwhite, both senior forwards. Lyon, a native of Foxboro, Ontario, has played in 76 games with the Lakers, registering 10 goals and 21 assists for a total of 31 points. Dormiedy, a native of Ajax, Ontario, has played in 72 games with the Lakers, tallying 11 goals and 19 assists for a total of 30 points. Musselwhite, a native of Burlington, Ontario, has appeared in 79 games with the Lakers, netting 21 goals and 19 assists for a total of 40 points.
"It's their time to shine and take the reigns of this team," Gosek said. "They've paid their dues. They're the last three guys that were part of the championship team. All three are pretty soft-spoken. Not a lot of vocal leadership but very good leadership in terms of the classroom, weight room, off-ice habits, doing the right things, being good people and by leading with hard work on the ice. We see those all as positives."
It will be the responsibility of the three captains to ensure that the freshmen are ready to play once the season begins. By NCAA rule, coaches were not allowed to conduct practices until Oct. 15, which means that it was the captains' responsibility to hold practices to build team unity. The NCAA rule also states that the coaching staff is not allowed to observe the captains' practices, completely separating the coaching staff from their team. As a result, the coaching staff has just two days' worth of practice before their exhibition game against Royal Military College on Saturday, Oct. 17. According to Gosek, the exhibition will serve as more of an evaluation than anything else. It will also serve as the first collegiate game for the freshmen, and give the coaching staff an idea of how they can contribute.
"Some of them are going to be able to help us right away," Gosek said of the freshmen. "Some will be ready to help us a lot. Some will be ready to help us a little. Some will be consistent and some will be inconsistent and some won't be ready."
The freshmen aren't the only concern for the Lakers this season; the goaltending position is also filled with question marks. Much like at the beginning of last season, the Lakers go into this season without having chosen a starting goaltender. In the second half of last season, Clarkson transfer Tim Potter filled the void and posted a 10-2 record, with the only losses coming against SUNY Plattsburgh. Prior to Potter's arrival, goalies Chris Hyk and Paul Beckwith went a combined 8-6-1 in the first half of the season. Potter has been dismissed from the team for undisclosed reasons, leaving the Lakers with Beckwith, senior Kyle Gunn-Taylor and freshman Daniel Jones.
"The bottom line is goaltending." Gosek said. "You can have a great team but if you don't have good goaltending, it's going to be a short season. You can have an average team with a great goalie and go a long way. We'll need our goalies to make saves and keep us in games while we develop team unity. We always have a goals against average around two goals per game and we've been pretty consistent with that over the past four years. If we don't have a goalie at the end of the year somewhere in between a 92 and 94 [save percentage], we won't go very far. If we can get good goaltending then I think we can be as good as or better than last year's team."
The goaltending position will need to be solidified early on because there are no easy games on the schedule. The Lakers open the regular season at home against Elmira on Friday, Oct. 23 before going on the road for six consecutive games. Those six road games include Elmira, Buffalo State, SUNY Fredonia, SUNY Potsdam, Plattsburgh and SUNY Cortland. Along with the games against Elmira, Oswego State has a difficult non-conference schedule that includes games against Utica (twice), Hamilton, Hobart, Connecticut College, Milwaukee School of Engineering and Adrian College.
The SUNYAC is entering its 51st year and one could argue that the conference is getting more and more competitive every year. Last season, Plattsburgh, who went 15-0-1 in SUNYAC play, tied Potsdam, who went 6-6-4 in SUNYAC play, while Oswego State tied Morrisville, who went 1-14-1 in SUNYAC play. Seven of the nine conference teams had at least five victories in conference play last season.
"The league in general is better," Gosek said. "All the coaches are working harder and bringing in better players. There is more of a commitment, the players are committed. It's tough trying to stay at the top. Everybody's gunning for you and everybody is working hard to knock you off of where you've been. I think you will see our league this year and in the years to come become a powerhouse league."
Plattsburgh has dominated the SUNYAC since the beginning, winning 19 of the 50 conference titles (38 percent), usually defeating the Lakers in the conference championship game. The frequent championship meetings between Oswego State and Plattsburgh are why it has become one of the greatest rivalries in all of Division III.
"We don't circle that game only because you can't be caught looking ahead," Gosek said. "Of course they're a good team and if you want to win the SUNYAC championship for the regular season, then you're going to at least need to get a split against them. But it's fun. For us as coaches, it's enjoyable."
While defeating Plattsburgh would make players and fans happy, it doesn't accomplish the team's goal for the season. For each season, the Lakers' coaching staff sets a series of goals, which include winning the SUNYAC regular season first, then winning the SUNYAC championship, then getting through the NCAA Tournament one game at a time. The Lakers have not been back to the NCAA Tournament since winning the championship in 2007, but Gosek believes that his team is good enough to make it back there this season.
"We hope not to be outworked by any team, Gosek said. "We pride ourselves on our work ethic and to be the hardest working team in the SUNYAC. We'll be well prepared, we will work extremely hard, I hope we will be disciplined and be one of the least penalized teams in the league. If those things all happen, then we'll be in a position to be considered for a position in the NCAA tournament."
The Lakers will have a new face on the coaching staff as well this season. Former Lakers hockey player Ryan Woodward, a 2007 Oswego State graduate, will join Gosek's staff, hoping to bring his experience to the team. Woodward, a captain in his senior year, played in 114 games for the Lakers, contributing 58 goals and 87 assists for a total of 145 points.
"I think he can be very helpful in helping to guide our freshmen and understanding how to balance academics and athletics," Gosek said. "He can tell the players how to balance the social life with the conditioning part of hockey. He can maybe bridge that gap between players and coaches. We're excited to have the extra help."
The Lakers will open up their fourth season in the Campus Center Ice Arena on Saturday, Oct. 17 in the exhibition game against Royal Military College before opening the regular season on Friday, Oct. 23 against Elmira in a non-conference game.