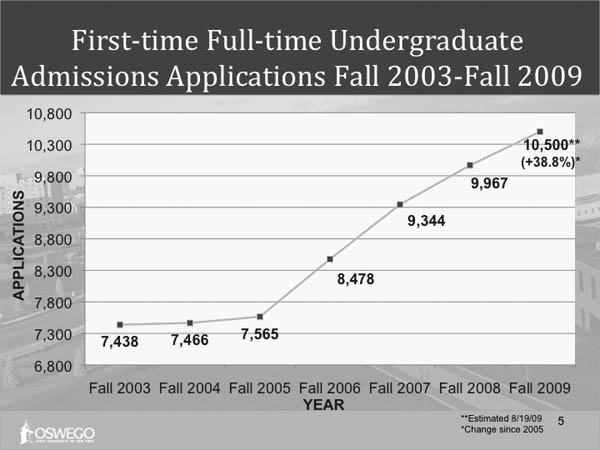 If trends from recent years are any indication, Oswego State has evolved into a top destination for many incoming and transfer students.
Applications from incoming students topped 10,500 for the fall 2009 semester (up 600 from last year), which has made Oswego State more selective when accepting students. Since 2005, there has been a 38.8 percent increase in applications received. Out of the 10,500 applications, only 47 percent had been accepted, culminating in a 10 percent decrease in the acceptance rate over the past five years.`
"This is not a record, but a substantial number," Joe Grant, Vice President of Student Affairs and Enrollment, said.
Oswego State's total enrollment for this fall is 8,300 students: 7,200 being full-time with transfers and 1,100 part-time. Since 1998, the college has had their full-time graduate and undergraduate students range from 6,722 to 7,200, with this year being the highest. For part-time students, there has been a range from 1,391 in 1998 to 1,715 in 2002. It is now currently at 1,100.
"The College would like to keep the enrollment roughly around this size," Grant said. "We are increasing the quality of enrollment as well."
More students are coming into Oswego with advanced credits (AP, Four-year, Two-year, CLEP, etc.). The accepted incoming student's grade point average for Oswego has increased to 90, a half point higher than last year. That number has increased almost three points since fall of 2000.
Other SUNY schools have seen the same effect as well. SUNY Cortland enrollment for the fall is 6,057 students. They had received 14,802 applications for the fall 2009 semester, but only accepted 6,012 with 30 percent actually attending. At Onondaga Community College, their enrollment is more than 12,000 students, increasing 14 percent from 2008. A press release from September 29 stated that OCC had "the highest enrollment in the nearly 50-year history of the college."
Not only have freshman applications seen an amazing peak but so have transfer applications as well. Oswego received 2,495 applications for this fall alone, but only admitted 1,400. Of these 1,400 students, only about half have enrolled.