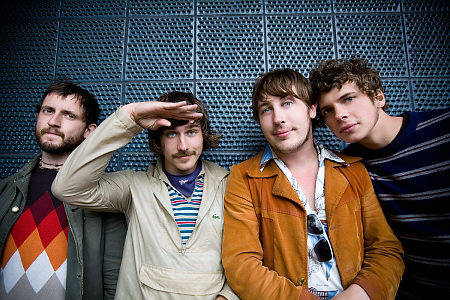 Portugal the Man, contrary to the name, is a band, not a man. They were formed in Wasilla, Alaska by singer/guitarist John Baldwin Gourey from the ashes of his previous project, "Anatomy of a Ghost." The current line-up of the band includes Gourey, Jason Sechrist on drums, Ryan Neighbors on keys and Zachary Scott Carothers on bass. Their mysterious name is inspired by David Bowie's larger-than-life characters like Ziggy Stardust and the title of a novel Gourey had planned to write about his father's travels, which he intended to call "Portugal. The Man."
Their mysterious origins aside, Portugal the Man is one of the hardest working bands in the business. Hot on the heels of picking up a mention on the Alternative Press' "10 Essential Albums of 2008" and an award for best vocalist for their third album, "Censored Colors," Portugal the Man entered the studio in Boston to begin work on their fourth album, "The Satanic Satanist". The album was released on July 21 to much critical acclaim.
The album is a bit of a departure for the band, which started out as a live outlet for Gourey's experiments with tape loops and drum machines. "The Satanic Satanist" reigns in those experimental tendencies and focuses more on pop song structure.
"I was really trying to go for the more Motown structure than anything," Gourey said. "It really took stripping things down to even get that sound."
The result is a collection of songs that have an old-school vibe, but by no means feel old. The high point of the album is the one-two punch of the quiet/loud rock out jam "Do You," followed by the hazy, sun-soaked psychedelic anthem "Everyone is Golden." From the moment the organ sounds emerge and the first blues riff kicks in, the listener will be swept away into intelligent, well-crafted rock n' roll.
Supporting Portugal the Man is another up-and-coming band called Hockey; who, confusingly, have no interest in the sport but every intention of rocking your socks off. The band was formed five years ago in Los Angeles by singer Ben Grubin and bassist Jeremy "Jerm" Reynolds. Since then they've added guitarist Brian White, drummer Anthony Stassi, touring keyboardist Ryan Dolliver and risen from playing local venues in Portland to touring with other up-and-coming bands, Passion Pit, and Friendly Fires, internationally as well as adding several important festival performances to their portfolios. All of their hard work has garnered them exposure in magazines like Spin, Filter, Q, NME, Marie Claire, a spot on the popular UK talk show "Live with Jools Holland" and their American network debut on Late Night with Jimmy Fallon on Oct. 15.
The media frenzy surrounding the group has enabled them to pick and choose from a variety of major labels for the re-release of their debut album "Mind Chaos," eventually settling on Capitol Records. Hockey's "Mind Chaos" was released Oct. 6 and deserves all of its positive comparisons to bands like LCD Soundsystem and The Strokes. To say that their influences and tricks end with that comparison is like saying gourmet soups are made with rocks. Hockey's galloping beats and occasional high-pitched backing vocals evoke Blondie, while their cacophonic pop euphoria channels old-school R&B acts like the Isley Brothers. Songs like "3am Spanish" and "Too Fake" highlight the band's talent for igniting dance floor mayhem, while songs like "Song Away" and "Learn to Lose" show that the band has the heart to make it in this business. Tickets are on sale now for $15 at