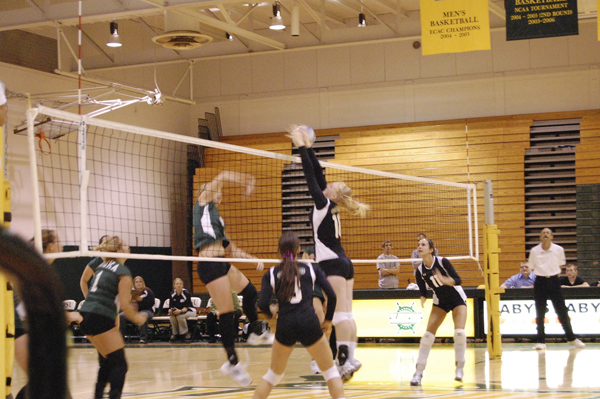 One of the most well-known facts of any sport is that winning comes with experience. The Oswego State women's volleyball team is young, and they have taken their fair share of tough losses in the 2009 campaign.
Entering the game against Keuka College, the Lakers had dropped eight straight contests, losing 22 consecutive sets in that time frame.
"We are a very young team, and we are experiencing some big time growing pains," coach Pat Hanlon said.
The Lakers would fight valiantly, but at the end of five grueling sets, too many mistakes at the most inopportune times would haunt the Lakers. After dropping the first two sets 26-24, 25-23, the Lakers rallied to win the next two 25-16, 25-21. In the fifth and final set, the mistakes were just too much to overcome as they lost it 16-14.
"We made too many mistakes in huge spots, we need to capitalize on opponents' mistakes," Hanlon said.
"We need to just slow things down," Laker sophomore Katie van Kessel said.
It was the Lakers' first home match of the year and the intensity helped the Lakers spark a run in the third and fourth sets.
"Returning home really helped, we have been on the road all season and the energy and intensity of being home really helped," Rachel Rossi said. "We just need to keep our energy throughout the entire match," Rossi said.
The Lakers fall to 4-17 overall on the year. As the Lakers get set for the Oswego State Tournament on Oct. 9 and 10, they look to snap the skid of nine straight losses. They open the tournament up at 4 p.m. against Medaille college.