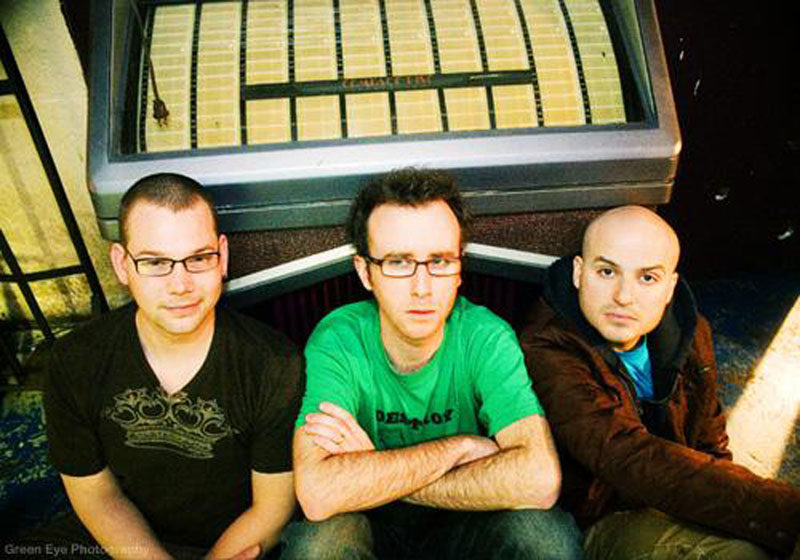 Helicopters is an eclectic band out of Chicago that combines exquisite melodies and songwriting with an occasional electronic flourish. The band won the opening spot of Lollapalooza in 2007 and most recently wowed critics and concertgoers alike with their sophomore album, "Sizing Up the Distance." I talked with them about their history, their process, and where they're headed in the future.
Q: How did you guys meet up?
Dave (lead vocals, guitar) and I met in college through a mutual friend. At the time he was the lead vocalist in a band out in [Indianapolis], and I was performing solo shows in Pittsburgh. Shortly after meeting, we both found ourselves back in Chicago, eager to write and perform. So we started an acoustic duo [that rifled through names as fast as it did drummers]. We added people, subtracted people, evolved and digressed many, many times over the course of six or so years before we decided to scrap everything and start from scratch. New project, new sound, new name… no drummer.
Fast forward a few years and one of the original Helicopters members moved to Ireland, which is when we picked up Brian (who I worked with a couple years earlier).
Q: Why did you choose the name "Helicopters"?
A: We were a little over a week away from the release of "How to Fake Fall Asleep" when we discovered the name we had at the time was in use by another band in the Chicago area. In a bit of a panic, a good friend of the band, while looking at the cover art for the album, said "why don't you just call yourselves Helicopters?" – which was the title of the photograph we used on the initial 100 limited edition pressings of the album. If we would've known how hard it would be to find us by Googling "helicopters" we would've probably picked something a bit more obscure. C'est la vie.
Q: Did you guys all have a thing for electronic music? Or were you trying something totally new on "How to Fake Fall Asleep"?
A: We all have pretty disparate music tastes, but electronic music is definitely a common thread. Even though Dave and I were heavily into the electronic scene when we were younger, we never really attempted to write music in the genre until HTFFA. Our early days as an acoustic duo were largely focused on melodies, harmonies and hooks. Over time, our past love for electronica and dance music, coupled with our songwriting backgrounds, really helped shaped Helicopters' sound.
Q: You guys have great melodies and hooks, where do you look for inspiration when putting those together?
A: The songwriting process comes to us in all sorts of ways. Some songs start as a guitar/piano hook, some as an interesting drumbeat, some as lyrics that find their melody by the natural cadence of the words. I've personally found that it's always best to just let the song turn into whatever it turns into without trying to steer it too much in any one direction. At the end of the day, our hooks come to us through our desire to write something that we'd want to listen to. If we can't stop humming a chorus, we know it's done.
Q: Where did the sound samples on the intro for "Still Silhouettes" come from?
A: The sound samples in the intro of that song were recorded at The Map Room [in Chicago], just down the street from where we recorded and produced the album. We knew we wanted some ambient bar/club noise for the backdrop of the song, but we didn't expect to end up using the entire call. Brian called my cell while I was at the bar, recorded a few minutes of noise, and the rest just fell into place.
Q: You have some interesting sound experimentation like backward vocals on "Iran." Do you guys have a specific idea of what you want to do, or do you play around until you find something that you really like?
A: A little bit of both, really. We do a decent amount of exploring with various production techniques. Sometimes to try to recreate something already in our heads, and other times just to see what might happen. What we loved about the backward vocals in "Iran" was the melody that surfaced. The vocals at the end are actually the "we rolled cigarettes like Indians" line from the beginning of the song, just played in reverse. Once we heard the interplay between the new melody and the guitars, we were hooked.
Q: If you could perform with someone living or dead live in concert, who would it be and why?
A: Wow, great question. I know all three of us would answer this question very differently. Cornelius, Radiohead, Talking Heads, Depeche Mode… we'd probably debate it as a trio for so long that we'd end up missing the concert.
Q: What are some artists, new or old, that you have been getting into?
A: This summer I've been really digging Passion Pit and Phoenix. Both their latest albums are perfect summertime pop. Also on heavy rotation: Shugo Tokumaru, Victor Bermon, Evan Marc, Atlas Sound, Frightened Rabbit, Deastro, Dirty Projectors… the list goes on and on. Really depends on my mood for the day.
Q: What are you looking forward to next? Recording more, touring more, or getting to relax a bit?
A: The three of us each have solo projects in the works, as well as new Helicopters material that we hope to start releasing soon. Along the way we'll be playing shows from time to time, but our focus for a while will be finishing up the back catalog of recorded material we've been wanting to release for some time.