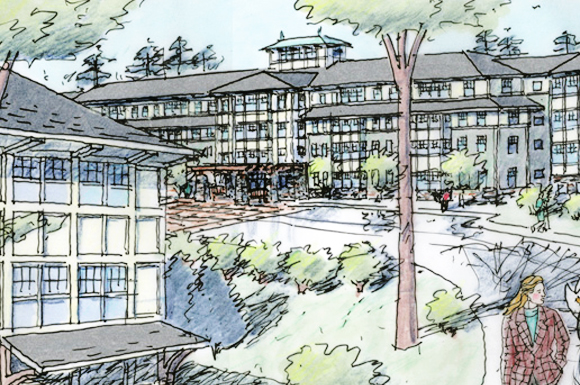 Starting fall 2010, college housing is Oswego will never be the same.
First, the expected completion of the hotly anticipated on-campus apartment complex The Village was to provide a much needed shot in the arm of the dull campus dorm life. And now, a private developer is set to premier a new set of off-campus suites for students to enjoy the lap of luxury while also being off campus.
Known as MyCollegeSuites, the complex is set to also open next fall. The housing company, developed by United Group out of Troy, N.Y., has been in business for 35 years and have had college rental units for nine years; starting with the 1,200 bed "Empire Commons" created for University of Albany students. This year, they have just opened three more on SUNY campuses in Cortland, Brockport and Plattsburgh. In the fall of 2010, they are set to open in Johnson Road in Oswego.
MyCollegeSuites is almost like Oswego State's new apartment complex, The Village, except it is run by a private development firm. According to John Ball, executive vice president of United Group. "The company has just received their permit for demolition and will start breaking ground in a few weeks, so by fall they will be able to accommodate 400 students."
MyCollegeSuites will offer two, three and four bedroom apartments, with bathrooms only having to be shared with one other person in their suite. Ball also commented that, "it is unique in a sense that each unit has private bedrooms, is fully furnished, has dishwashers, microwaves and refrigerator; not your typical college rental." He also called it, "a resort hotel for college students."
Compared to Oswego State's "The Village", Ball said ,"It has higher amenities and more bells and whistles."
Other amenities include: a game room, study room, computer room, café and fitness center. Offering 24/7 security and an onsite manager, and bus service to and from campus, Ball also noted that safety shouldn't be a concern.
Said Ball, "It will be run like a responsible living environment"
According to SUNY Cortland Liaison Mike Holland MyCollegesSuits have so far had a positive impact on their campus. "The school does encourage MyCollegeSuites because it is a huge improvement in the off-campus housing market for students," Holland stated.
He also described MyCollegeSuites not as competitors but more like partners due to their help in relieving overcrowding on campus for the past five years. "It really enhances the off-campus housing options and making other student rental owners start competing; MyCollegeSuites is a really reputable company," Holland said.
The suites are expected to start at $7,600 per year, per student with a $400 discount if you book soon and only $75 to apply and reserve a room). This includes Internet access, cable TV, all utilities, fitness center and activities. The only thing that would not be covered is the café, which students would pay a la carte.
Oswego State sophomore, Katie Goldstein added, "I think that the price is reasonable when compared to the costs of off-campus living in an apartment, but I would still prefer the convenience of living in an on-campus residence hall."
"There will be no student housing exactly like it anywhere. It is truly a 21st century world class housing and live-learning facility. Your students and their families now have a choice," Ball stated.