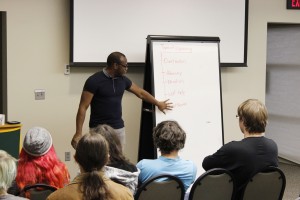 On Wednesday night, a representative from the United States Student Association came to Oswego State to talk to students about how they can affect change on their campus.
Akin Olla, a Nigerian native and 2013 graduate of Rowan University, spoke with students about the history of the United States Student Association, different forms of protesting and student power at universities.
Christopher Collins-McNeil, the Student Association President at Oswego State, met Olla at a United States Student Association conference in Washington, D.C. in March.
The two really clicked.
"I was like, 'This person is awesome, I would love to work with them and help them do whatever they need to do,'" Olla said, of Collins-McNeil.
Collins-McNeil liked what Olla had to say about student empowerment and asked him to come to Oswego State to teach students about the power they can have on campus.
Olla, who fielded questions from students throughout his presentation, was happy with how the event turned out.
"It seemed like everyone who came wanted to be there and wanted to actually learn something from it," he said. "From the way that folks were talking at the end, it seemed that they had actually learned the lessons they were supposed to learn."
During his presentation, Olla split the students into two groups—a student group and a business group as a part of a role-play learning experience.
The student group was asked a series of questions to assess what kind of power they thought they had. They had to come up with a plan of what they wanted from the business group.
The business group was asked similar questions, but the members understood that they had no reason to give the students anything they requested.
The point of this exercise was to demonstrate to students the limits of their power and what they can do to overcome that.
While Olla was involved with student government at Rowan University, he was able to work with other student organizations to make changes on his campus, like freezing tuition and building a multi-cultural center.
"I saw that building power actually worked and that combining efforts together and being willing to get a little aggressive with the administration was really effective at actually getting what we wanted," he said.
Olla is passionate about teaching students how to use the power of student government to get what they want on their campuses.
"I see universities as a crucial part of our democracy and student government as an amazing body of potential for the future of our country," Olla said. "Student governments develop amazing leaders…Student government can play a substantial role in social change in our country."