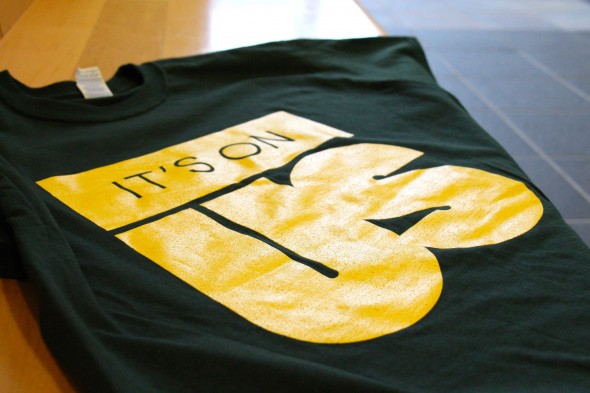 On Tuesday, the Title IX Committee and Dean of Students Office hosted the "It's On Us" photo day, where students and faculty handed out free T-shirts in support of the movement designed to raise awareness for sexual violence.
The day consisted of a tabling event in front of the Marano Campus Arena. Once the T-shirts were handed out, a picture of those who obtained a shirt was taken to signify they had taken the pledge to help prevent sexual assault.
According to Oswego State's official website, the Student Association passed a resolution on Sep. 30, 2014 to support President Obama's "It's On Us" movement, which was passed 11 days prior to Oswego's observance.
While the "It's On Us" movement is most certainly a positive message being sent to the student body at Oswego, it comes during a school year when a student committed a first-degree rape in Hart Hall on Feb. 13. The fact that a sexual assault on campus happened is not the fault of the school, or of anyone except the perpetrator. However, Oswego State officials have yet to release any information to students, or anyone else, regarding the assault.
Despite numerous attempts by The Oswegonian to gain information on the case, school administrators, including University Police, have been reluctant to share specifics.
This makes the "It's On Us" campaign seem as though it is having little effect on the university and leaves confusion as to why there has been no official statement on the situation. It became known through student media outlets that a sexual assault had occurred, yet university officials still neglected to send out as little as an email commenting on the issue and giving students more information.
What makes this matter worse is that after the U.S. Coast Guard rescued four students who ventured out on Lake Ontario on a blow-up raft, an email from university officials was promptly sent out the same day.
It has now been more than two months since the rape has been reported and an email commenting on the issue still has not been sent to students. It is understandable that Oswego State administrators would have felt it wise to wait for more information to surface before sending out an email on the matter, however, this was not the case.
It is important to face these instances head on and not simply sweep them under the rug and forget about them just weeks later. This is not the message "It's On Us" is attempting to convey to young people around the country. It is borderline hypocritical to hold an event to raise awareness for sexual assault when the university has done everything but address the one that happened just two months ago.