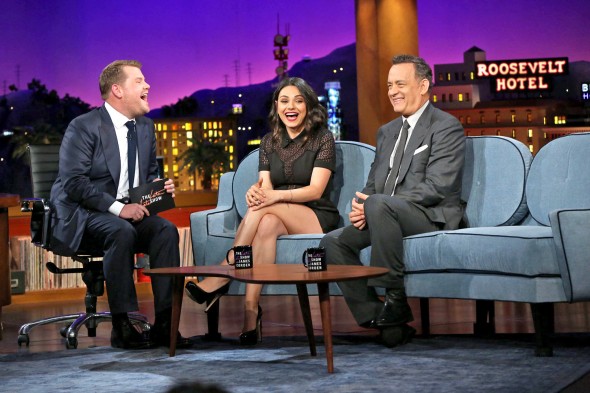 When it was revealed James Corden would be taking over for Craig Ferguson as the new host of CBS' "The Late Late Show" the announcement was met with a general sense of confusion about who exactly Corden is.
Corden is an English actor primarily known for his work on various BBC shows, such as a guest spot on "Doctor Who," and a turn on Broadway, where he received the 2012 Tony Award for Best Actor in a Play, beating out the likes of James Earl Jones, John Lithgow and Philip Seymour Hoffman. However, Corden has remained under the radar to the majority of American audiences.
While his relative anonymity initially seemed like a drawback for his new gig as a late night host, Corden and his team have used it to their advantage. On "The Late Late Show" Corden has the opportunity to invent himself around the program, an opportunity he and the creative team have certainly run with.
From his first episode on March 23 where he and guest Tom Hanks recreated scenes from Hanks' entire filmography in less than seven minutes, which has already racked up over 12 million views on YouTube, Corden has proven himself to be a highly entertaining talent.
Corden and his team make the show seem fresh by capitalizing on Corden's charm. Unlike any other late night host, Corden has no experience in stand-up comedy, but that doesn't mean he isn't funny. Corden is an actor and he shines brightest during the sketches he participates in with his guests. Aside from the Tom Hanks bit, Corden has also spoofed underwear advertisements with David Beckham, sung karaoke in the car with Mariah Carey, been pranked by Katie Couric and played games with Will Ferrell and Kevin Hart.
Some may say these sketches borrow too heavily from current king of late night Jimmy Fallon and his "Tonight Show," but Corden brings enough of his own unique styling and charm to the bits to keep things feeling fresh. Though the sketches are easily the highlight of the show, Corden is not a one-trick pony.
Even though he has not been hosting long, Corden has a knack for the interviews. Instead of bringing out his guests one by one, Corden invites them all out at once and sits on a chair right next to the couch, like the Graham Norton Show. The relaxed set allows the conversation to flow and the laughs to keep rolling as the celebrities all play off each other. This setup serves to turn what is often a boring late night staple into a more entertaining affair and arguably puts Corden's format above many other late night hosts.
While Corden was certainly an unexpected and interesting choice for a late night host, it is this exact brand of unique and refreshing that works so well for "The Late Late Show." Corden already seems at ease in most segments of the show and handles some better than several of his late night counterparts. Corden is still new and still has some kinks to work through, but his refreshing personality will make this show an exciting program as it continues to further develop and fine tune its comedic voice.