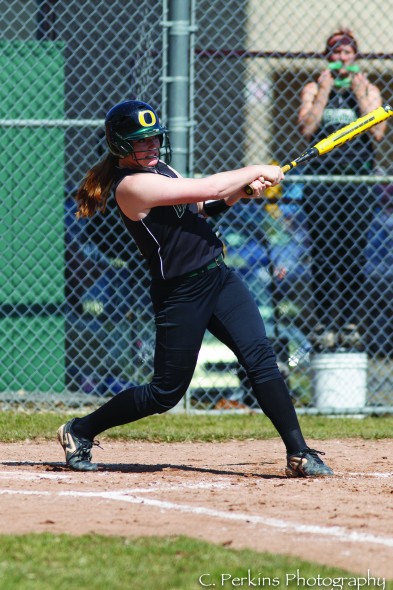 On a frigid March evening with Oswego winds howling and snow banks standing nearly two feet tall, the thought of throwing a softball seemed preposterous.
In the midst of a winter wonderland, Oswego State softball players hustled over to Romney Field House not just to shield themselves from the barbaric weather, but also to work on some elements of their game at an 8 p.m. practice.
The Lakers, who have already canceled their first four games thanks to Mother Nature, remain upbeat and are anticipating their regular season debut against Western New England University in Clermont, Fla. on March 14.
In the meantime, Oswego State looks to do all it can to improve.
"We're just working on our intensity," said senior catcher Alexandra McKay. "We're taking advantage of the time we have just to fine tune some things. While we all are anxiously awaiting the season to start. It's good to take this extra time and build on our intensity."
Freshman Melanie Klauser added that extra batting practice and training during the regular season delay allows the Lakers to improve as much as possible.
"We're all accustomed to this weather, so we just have to prepare as best as we can," Klauser said. "We're really lucky to have a facility like Romney Field House, where we can train and work on game-time situations."
The Lakers finished 9-18 overall with a 5-13 conference record in 2014. After a disappointing season, the program turns to newly promoted head coach Kevin Ahern to put a team that is one year removed from the SUNYAC title game, back on track.
"As the former assistant coach, most of the girls on the team know me very well, so from a transition perspective, I don't believe it'll be all that tough," said Ahern, who enters his sixth year as a coach within the Laker program.
Ahern added that he is not putting too much pressure on his players and instead, creating a positive atmosphere where the players will not be afraid to compete and work hard.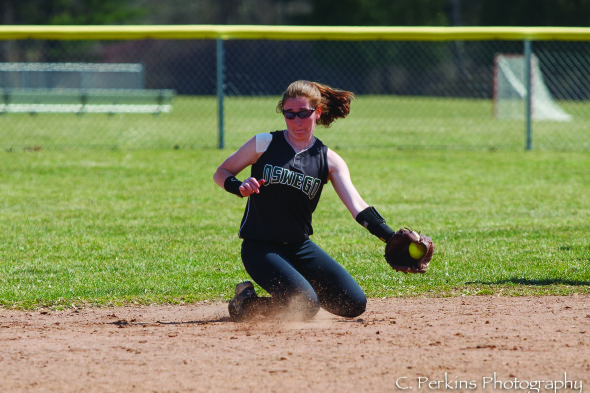 "If you tell your lead-off hitter they need to get on base or they need to score, that puts an enormous amount of pressure on these athletes," Ahern said. "My whole feeling is that I don't believe we perform our best when we're afraid of making mistakes. We play our best ball when we're comfortable and having fun."
So far, Ahern's laid-back coaching philosophy has been well received by the softball team, as the players stay focused and prepare for a fresh start.
"Everyone's more excited to come to practice everyday," said senior second baseman Jessie Terrano. "We're all on the same page, thanks to a more positive atmosphere."
Even as a more unified and collective unit, the Lakers will need to improve a pitching staff that features junior starter Alexandria Connelly, who finished with a team-best 3.78 ERA last season. Despite the solid ERA, the Endicott native finished the season with a 5-8 record in 20 appearances. Connelly also came in to relieve some of her teammates, notching a team-leading two saves.
While Connelly puts the Lakers in a great position to take a game every time she is in the circle, she is still only one pitcher in a still developing rotation.
"We've got all of our girls returning this season to pitch, but we're also really excited about what Lisa O'Callaghan can bring to the table," Ahern said.
To further improve the Laker pitching, Ahern brought in Sean Samson, an assistant coach of Ahern's, who specializes in pitching, to aid Oswego State in its development.
"I've noticed a big improvement with our pitchers," McKay said. "Samson is so supportive; he's opened communication between pitchers and catchers and through our communication, we're able to get more out of our pitchers."
Connelly added that Samson has worked with pitchers on picking up their speeds, putting more spin on the ball and keeping the ball low, so that players do not crush it out of the ballpark.
With Samson's expertise rubbing off on these young pitchers, perhaps this is the year that Oswego state returns to SUNYAC contention.
"We went to the SUNYAC title game my freshman year, and to have last season end the way it ended was very disappointing," Connelly said. "Last season definitely lit a fire under our seats and we're out to prove that 2014 was just a fluke."
The Lakers patiently wait for their chance to prove that 2014 was a rarity, when they begin their journey toward redemption in Clermont, Fla. with eight games in four days.
When the freshly cut grass aroma fills the air and the sound of birds chirping compliments the smacking of bats hitting softballs, it will be prevalent that softball season is here.
The Lakers first home game is scheduled for March 31 against Cazenovia College in a doubleheader set for 2 p.m. and 5 p.m. respectively.