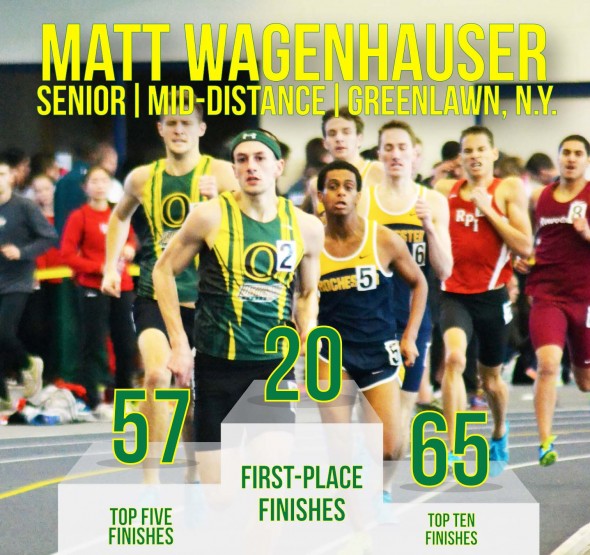 Six years ago, Matt Wagenhauser decided to run outdoor track after playing soccer throughout his childhood and today he is an All-American mid-distance runner. He did not just find success on the track but a passion as well.
"I played soccer my entire life, and I only started track my junior year of high school," Wagenhauser said. "So, my first year, I wasn't that great but I loved it. I loved running and I wanted to get better. I did cross-country the next year to get better and try to improve myself and work on all the little things. It definitely changed my life when I started, and it's gotten me here today, so it's pretty important."
Wagenhauser has had success since the beginning in Oswego. In his first invitation at St. Lawrence University in January 2012, he was a part of the first-place men's distance relay team. Since then, he has been a part of 19 other first-place finishes, and only finished outside the top 10 in 10 of 75 career races. But, his growth has been more visible outside of competition.
"I was pretty shy my freshman year, so I think I'm more personable," Wagenhauser said. "I'm definitely a better leader than I was. Not just lead by example anymore, but vocal leadership. I work harder at everything now."
The example Wagenhauser sets is one of consistency and success at the highest levels. In the 400-meter dash, he is a two-time defending SUNYAC outdoor champion, as well as the reigning conference indoor champion. He was also part of the SUNYAC outdoor champion 4×400-meter relay team last spring.
On the national stage, he has qualified for the NCAA Outdoor Championships in back-to-back seasons. As a sophomore, he qualified in the 400-meter dash. But, he had his best finish last season when he had the fifth fastest time in the nation for the 800-meter dash.
Not running the 800 often before, Wagenhauser was surprised at the level of success he had so quickly. However, his head coach, Derek Rousseau had a bit of foresight. The original plan was for Wagenhauser to return to nationals for another shot at placing in the 400-meter dash, but in collaboration with Don Masterson, the mid-distance coach, Rousseau decided to take the chance.
"Indoors, he ran it once and it looked pretty good," Rousseau said. "So we thought, 'Let's put him in and let him run it outdoors. So, we waited and the goal was still to get him to nationals in the 400. But, Don was like, 'I think he can put up a national qualifier in the [800] in Oneonta in May.' So, let's see what happens. Well, he went out and did just that, turned in the fifth-fastest time in the country, and from there, there was no looking back. It was just a natural progression of how athletes work."
There is a train of thought that suggests runners who started competing in their early teens burn out early in college. Suggesting Wagenhauser benefited from coming in to run later on. Rousseau believes his senior standout is just starting to see his potential. But, the coach credits it to a bit more than a late start.
"I think, in his regard, that he was progressed from a sprinter to a mid-distance runner has really helped not only prolong his career but we're just now starting to scratch the surface of it," Rousseau said. "I think the thing that really helped him was developing speed early on. Because he's had years and years of speed work, now the endurance that builds up a little bit quicker as you get older has had a chance to coalesce with the other skills he's developed over the course of a career, and it's really taken off for him."
The next step for Wagenhauser is a spot on the podium at the NCAA Outdoor Championships this spring. Rousseau thinks the question is not whether or not Wagenhauser will be on the podium, but instead where on the podium he will stand.
Rousseau has been coaching at the collegiate level since graduate school. He coached professionals and international runners while at Providence College, and even though Wagenhauser is not on that level. The Greenlawn native is among the best the second-year coach has ever worked with.
"In terms of desire to compete and ability to excel, he's up near the top," Rousseau said. "I'd say he's in the top five percentile I've had the opportunity to work with. In terms of talent, top 10 to 15 percent definitely… Competitively, I think he's got the fire and the drive to up on that level, and what he's been able to accomplish is pretty spectacular."
Wagenhauser is a part of a large senior class that has had a lot of success over its four years. Even though Oswego State is not known for track & field, the class of 2015 has helped put the program in a place to potentially finish in the top three at SUNYACs. A collection of mostly walk-ons, the growth the group has experienced has been both on and off the track. One of Wagenhauser's friends and co-captains, distance runner Nick Montesano, sees him as an inspiration to not only the freshmen but also the team as a whole.
"I've known Matt my entire college career," Montesano said. "He's a wonderful guy. He's a wonderful leader, not only in running. He's been a phenomenal person to hang around, and a great friend."
Wagenhauser has lofty goals, such as returning to nationals, finishing top three at SUNYACs and qualifying more competitors for NCAA Championships. He knows this is their chance to make a mark on Oswego State athletic history and their class is the one with an opportunity to put the school's program on the map. Wagenhauser, who already holds seven school records, has a chance to add more individual accolades. But, the seniors know the most important focus is on keeping the team going strong once they graduate.
"We understand that they're going to be losing a lot of guys. So, we've got to prepare them for that," Wagenhauser said. "We obviously see who's going to be a future leader. We focus on getting everybody comfortable and getting everyone to understand what they have now and what they're going to have in the future. We try to instill in them to always work hard and be smart about every aspect of the sport, and of the school. We do kind of mentor and try to get the young guys ready."