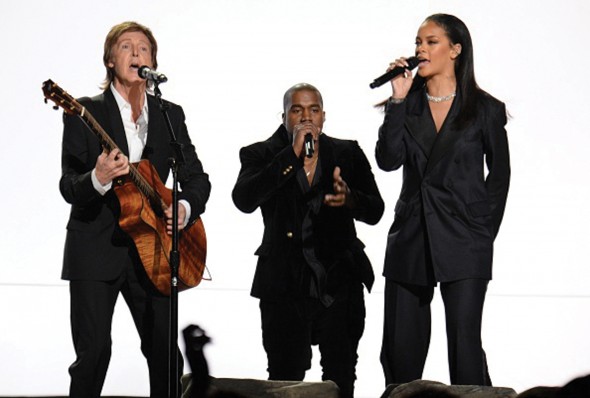 Last Sunday was the 57th Grammy Awards hosted, once again, by LL Cool J. Artists from all genres came together on the red carpet shocking us with their outfit selection.
The top three best outfits this year have to be Nicki Minaj, Taylor Swift and Gwen Stefani in that order. Nicki Minaj amazed us with her sleek black, low V shaped Tom Ford dress and Giuseppe Zanotti heels. Her make-up was natural, her hair was slicked back on one side and her jewelry was not over the top. At previous award shows she always attempted to look unique and wild but this year, her simple black dress stole the spotlight.
Even though most people called Taylor Swift's dress a country girl prom dress, its simplicity yet originality is what made her look gorgeous. Her lipstick matched her shoes and the aqua dress was perfectly fitted.
Last but not least, Gwen Stefani stepped out onto the red carpet with a beautifully designed jumpsuit, apple red lipstick and a haircut that reminded us of her fierce personality.
On the flip side, Rihanna, Madonna and Kim Kardashian did not wow the crowd. Rihanna's pink dress was not only disturbingly puffy but there was nothing interesting about her hair or shoes. Madonna once again refused to act her age and wore not only a burlesque corset but flashed news reporters her butt for laughs. Kim Kardashian reminded us of Cruella de Vil in an unattractive brown robe dress that did not compliment her style.
Beyond the fashion world, there were some great performances. One of the most memorable was Beyonce's "Take My Hand Precious Lord." Her all-white outfit and back-up dancers really touched the crowd's heart. She shocked us by performing this song, especially since last year she came out with so many top hits. It was humble and beautiful. Secondly, Sia's performance of "Chandelier" was just mind-blowing. The actors used and the stage decor really made it unique. Lastly, Katy Perry's "By The Grace of God" was a beautiful song that touched upon domestic abuse. The opening speaker, domestic violence activist Brooke Axtell, gave a great speech that was a nice transition into the song.
Sam Smith's hands were full as he walked away with four awards. He won Best New Artist, Best Song of the Year, Best Record of the Year and Best Pop Vocal Album. His performance of "Stay With Me" was boosted by his surprise guest collaborator Mary J. Blige. Iggy Azalea did not win Best Pop Duo/Performance with her top hit of last year "Fancy" but instead the Grammy went to A Great Big World with Christina Aguilera for "Say Something." One disappointing win was Pharrell winning Best Music Video with "Happy," especially since it was running against "Chandelier" and "Turn Down For What." Fans believe that this catchy tune is overplayed and over-loved and the award should have been given to another artist. Last but not least, Kendrick Lamar won Best Rap Song with his song "i," which was thought to lose to Nicki Minaj's "Anaconda" or even "We Dem Boyz" by Wiz Khalifa but it looks like this year voters went with a more upbeat, positive song.
This year's Grammys was filled with all the excitement of previous ones, but what really stood out were the performances and the new artists who had the opportunity to prove themselves onstage. Beneath the disappointing outfits were down to earth artists who showed love and support for each other throughout the ceremony.