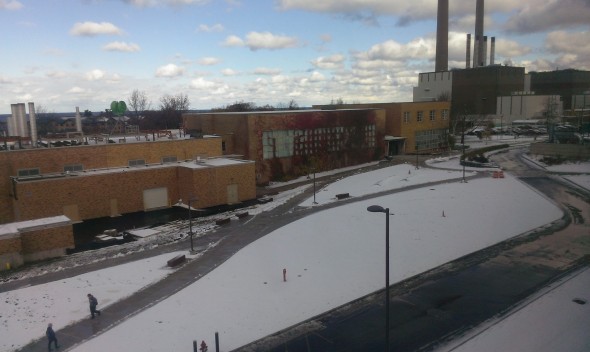 Oswego State received its first lake-effect snowfall of the season Nov. 14 with a reported four inches of snow throughout the day.
The Oswego area receives an average of 141 inches of snowfall per year, making it one of the snowiest college campuses in the nation.
"We happen to be downwind of Lake Ontario, so typically wind in the winter blows from west to east or from north to south," said Andrew Janiszeski, the co-director of the Lake-Effect Storm Prediction & Research Center (LESPaRC), which provides forecasts for both the New York and several school districts within western New York state. "Lake-effect snow needs to have certain criteria. So you would want it to be 24 degrees Fahrenheit colder about a mile up, and wind that blows down the long axis of the lake, so you can pick up sufficient heat and moisture."
Based on the criteria Janiszeski gives, lake-effect systems have the potential to create blizzard-like conditions almost on a weekly basis, which is what happened in the spring. These systems can form with only a couple of hours of notice.
"What you want is a continental polar air mass entering our region, because then with that cold air out of Canada over a warm lake, you have what's known as atmospheric instability," said Oswego State student Eric Drewitz, who is not only the synoptic forecaster for LESPaRC, but also hosts the Facebook page 'New York State Weather Center: Better Forecast For A Better Tomorrow.' "This can cause evaporation on the lake and condensation when it reaches a deep layer of cold air."
Drewitz also said the system that occurred last Tuesday was the one that was going to give the region the best chance of lake-effect snow.
"The lake is relatively warm during November, and with this really frigid air coming over, it's going to make the instability go through the roof," Drewitz said. However, this did cause whiteout events in many other areas in New York state, it didn't even touch Oswego. This gives the impression that these systems can change with even a shift of wind.
Most of the meteorologists who forecast for LESPaRC are very excited for more of these snow storms to affect Oswego State.
"Let's just say that words cannot describe my excitement," Drewitz said.
However, Janiszeski recommends when students return home for Thanksgiving, they should take it easy while traveling.
"Most times, if there are any accidents or any problems, it's because people are going too fast," Janiszeski said.