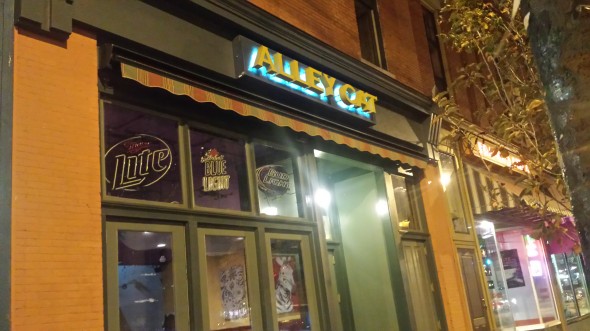 Alley Cat, located on 23 W. Bridge St., was evacuated and shut down Oct. 30 around 10:30 p.m. when a smoke machine caused the fire department to find them in violation of multiple safety codes.
"My building filled up with smoke," said Franco Diapolito, owner of Franco's Pizza, located next to Alley Cat. "So I called 911. I was afraid there was a fire."
According to a report from the Oswego City Fire Department, Franco's Pizza reported smoke coming from the vents. Upon investigating the light smoke coming from the vents from the back of the restaurant, they discovered no origin to the smoke in the building. Firefighters discovered Alley Cat next door was using a smoke machine and the smoke traveled through the ventilation system in the common wall of Franco's Pizza.
Alley Cat was evacuated and the smoke machine was turned off as the building ventilated. The firefighters inspected the entire building and the Oswego City Fire Department determined the building was to be closed due to numerous code violations. Alley Cat was instructed not to reopen until all violations were corrected. The scene was clear, and the fire department turned the case over to the city Code Enforcement Division.
"I couldn't care less if they closed. They are lousy neighbors," Diapolito said. "It is pretty irresponsible of them running a place the way they were and putting all of those kids at risk."
The city code Enforcement Division did a full inspection the following morning, finding 29 fire and property maintenance code violations. According to the report provided by the city code of Enforcement Division, these violations include: a fire extinguisher hanger and brackets violation; fire extinguishers violation, the fire extinguisher was not easily accessible; two counts of a plumbing systems and fixtures violation, this includes a lack of a sprinkler system; two counts of general interior structure violations, referring to broken floor beams; overcrowding violation, building was occupied by more occupants than permitted; four counts of mechanical appliances violations, existing appliances were not properly installed; maintenance of required safe guard violation, equipment was not properly protected; means of egress violation, there was no existing unobstructed path of travel; two counts of stairs and walking surfaces violation, stairs and landings were not in good condition; structural members violation, structures were not safely supported; carbon monoxide violation, there was no way of detecting carbon monoxide; openable windows violations, some windows were unable to open; building without a permit violation, building did not present a permit upon request; smoke alarm violation, fire alarm was out-of-date; garbage/refuse not in approved violation; accumulation of rubbish or garbage violation; and disposal of garbage violation, excess of garbage.
Michael Howell, bartender and disc jockey at Alley Cat, said the previous owners had done inadequate construction to the building.
"All the [construction] that happened before Alley Cat, it never got inspected, so when they did our inspection it came back on us," Howell said.
On the afternoon of Nov. 1 a structural engineer made the necessary improvements. This included replacing the broken floor beams and installing an up-to-date alarm and sprinkler system. With the clerk's office, code enforcement and fire department working on their off hours, Alley
Cat was brought up to code and was able to open Saturday night.
"It happened on the worst weekend, but we are glad it is fixed," Howell said. "The city really helped us out and any other time they wouldn't do that, but they knew the importance of the weekend and they knew that this was a big money maker weekend. We had to get this place open. Every time we had to get something fixed, we called them up on the personal cell phone and they would come inspecting and would give us the A-OK on something."
According to Howell, Alley Cat worked for 48 hours straight to get all the violations corrected. At around 6 p.m. Saturday Nov. 1, the city Code Enforcement Division gave a final inspection and Alley Cat was able to open later that night.
"I appreciate the fire department stepping in and ensuring that the building is as safe as possible for the individuals who come to Alley Cat," owner David Wahrendorf Jr. said. "Our mission is to maintain a safe environment where students and others can enjoy themselves.