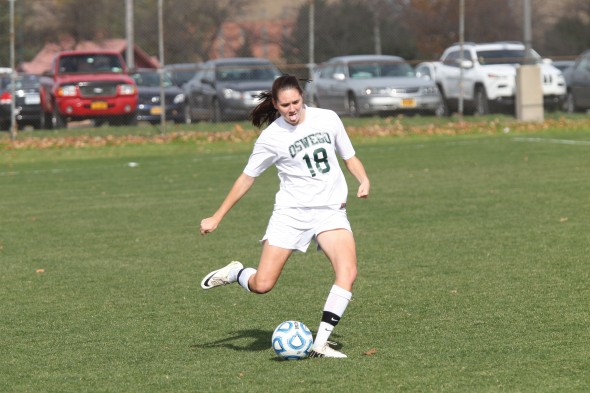 One can call her a soccer player, one can call her a hockey player, or one can just call her what she really is, an athlete. Sarah Grupp, a freshman from Charlottesville, Va. has not wasted any time in beginning her Oswego State athletic career.
After being named SUNYAC Player of the Week, and ECAC Rookie of the Week for women's soccer earlier this year, many were surprised to see Grupp's name among those listed on the women's ice hockey roster.
Grupp had a stellar first season for the women's soccer team, scoring four goals and tying senior captain Bri Dolan for most minutes played, as well as developing into a potent weapon the Lakers will look to rely on for the next three years.
Women's soccer head coach Brian McGrane received contributions from many of the freshmen this year, but Grupp was certainly a standout.
"We saw some video on her before the season, and we knew she would be a pretty good player," McGrane said. "She was tremendous, her ability to play four different positions for us at any given time. Her soccer I.Q. and knowledge is very good."
McGrane went even further, giving Grupp one of the greatest compliments an athlete can receive.
"We thought we would be getting a good player, but from start to end, she was maybe the most consistent player we had all year," McGrane said.
Although Grupp has yet to make her Oswego State ice hockey debut, it is expected she will bring the same vigor and youth to this exciting ice hockey squad.
Grupp's height also serves her well, as she stands in at 5 feet 10 inches tall, the third tallest player on the ice hockey team.
A player who may not have Grupp's height but certainly shares her dual-sport experience, is sophomore ice hockey defenseman Alli Ullrich, who also plays for the women's tennis team. Ullrich, who plans to log big minutes on the ice for the Lakers this year, offered some words of advice to Grupp and all dual-sport athletes.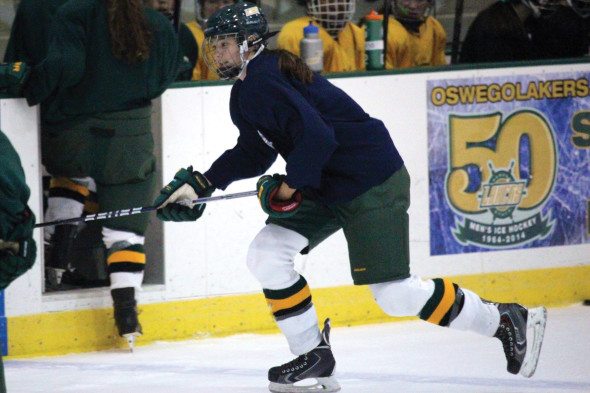 "You need to definitely give it a shot," Ullrich said. "Try it, and you'll eventually get to know the team better, and get better everyday. Quitting is just not an option."
Ullrich also acknowledged that participating in two college sports can be challenging at times.
"For me, tennis and hockey are two extremely different sports," Ullrich said. "Being in shape for hockey isn't necessarily the same as being in shape for tennis. Time management is also important, with practices changing, and your routine always changing."
Despite this, Grupp insists she never had any doubts about playing both soccer and ice hockey.
"I've grown up playing these sports. I love them," Grupp said. "I could never decide which one I love more, and I don't have to."
The two sports, although largely different games, present many of the same challenges. For Grupp, whether she is on the ice or on the soccer pitch, her intensity never changes. Grupp only has one level, and that is 100 percent.
"I'm a little behind right now because I haven't been on the ice for long," Grupp said.  "There isn't too much of an adjustment, both coaches tell me the same thing. Be as aggressive as I can."
Despite being a member of the Oswego State women's soccer and ice hockey teams, Grupp's involvement as an athlete does not stop there, as she also participated in track and field in high school.
Grupp, however, insists we will not be seeing her in any capacity for the spring season this year.
"Probably not going to be playing. I think I'll take a season off," Grupp said.
Two sports may be her maximum, but Grupp would certainly love to be named SUNYAC Player of the Week as a freshman, for two different sports.
"It would be really amazing," Grupp said. "Coach Dillon was teasing me about it. She said she expects me to show up and win another one."
Grupp has already had to manage her teams' schedules accordingly, as she was unable to begin ice hockey practice until the soccer season officially ended. The transition from soccer to ice hockey this year has incorporated more than just Grupp, as her many coaches also had to communicate. Grupp was initially sought after by Dillon and the ice hockey team before the soccer team learned of her ability.
"When we told the soccer coach, Coach McGrane, that we were recruiting Sarah for hockey, he looked her up and found out what league she played in, and he was very happy," Dillon said.
When initially learning of Ullrich's decision to join the tennis team, and the newcomer Grupp's to play multiple sports, Dillon admits she had her reservations
"Of course there are reservations. We don't want any of our players to get hurt," Dillon said. "But that's the beauty of Division III, it allows players like Sarah and Alli to work on their athletic prowess. I like dual-sport athletes, because they are usually more coordinated, they are working on other skills and they are excited to put on the skates."
In just two months, Grupp has set the tone for what should be a notable Laker career. Grupp's soccer performance may have already earned her accolades and recognition, but the only award she plays for is a SUNYAC, and maybe a national title. She will have three more years after this one to achieve that goal, and if her team does earn that distinction, one can guarantee Grupp will have played a large part in it.