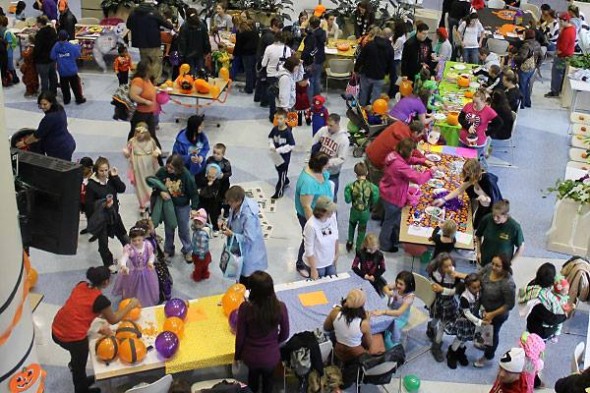 Oswego State's residence halls will provide "Safe Trick-or-Treat" for children in sixth grade or under, accompanied by an adult, from 11 a.m. to 2 p.m. Sunday, Nov. 2.
VEGA, the Junior and Senior Women's Honor Society at Oswego State, is hosting this event. This is one of many events VEGA holds throughout the academic year.
"We usually get between 200 and 300 children participating each year," said Laura Brown, Faculty Advisor for VEGA. "All the dorms are eligible to participate, but we usually get 20 percent of the students overall to hand out candy."
"I don't have any specific numbers of students because we don't keep track from year to year, but I would estimate we usually have about 40 students participate," Johnson Hall Director Kelly Giese said.
During the trick-or-treating, children and families can go to the Marano Campus Center Student Activities Court from 12 to 3 p.m. where there will be food, games, crafts and music.
"The after party is sponsored by VEGA for the children and their families," Brown said. "Some other student organizations have partnered with VEGA at different times to provide games or activities for children."
Admission for the after-party portion of the day is providing two canned or boxed food items per child attending, and all the food donated will be given to the local food bank.
Brown stated Safe Trick-or-Treat has been going strong for 30 years.
"My primary role is to promote Safe Trick-or-Treat and encourage students to sign up," Giese said. "In the past, I have purchased candy for Desk Attendants to give out, and I usually stop down to check on things throughout the day."
"If you are involved, buy a lot of candy," said Johnson Hall Resident Mentor Kelsey Thomas.
Thomas was involved in the event last year and said it is a nice and safe way for many children to be able to attend.
"Students who sign up are really excited to see all the kids in their costumes," Giese added. "They love watching the kids knock on their doors and ask for candy, and they love being able to put a smile on their faces."
Giese also said the kids who do not sign up are sometimes confused as to why there are small children in the building but said Johnson Hall residents have never had any negative feedback about the event.
If residents are interested in participating in this event, they purchase their own candy and offer their rooms up as stops for the children to trick-or-treat on the day of the event. Students can sign up at the front desk of their residence hall until Thursday, Oct. 30.