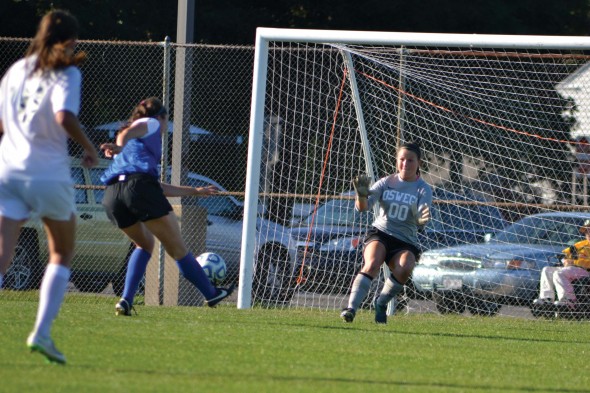 The Oswego State women's soccer team is extremely close, as any competitive sports team should be. A successful season, like the one the Lakers experienced last year, will only do more to bring a team together, while a collective struggle will unite a team in a completely different way. Further within the closeness of a soccer team is the closeness of arguably the game's most important position, the goalies. The Oswego State women's soccer team boasts four goalies, including junior starter Alyssa Glasshagel and sophomore Melissa Siegfried.
Glasshagel, who has been steadily improving since her freshman year, has reached new heights this season, recording three shutouts in her seven starts this year. The Coram, Long Island native, only stands in at 5'2", but you would hardly notice her small stature watching her dominate in the box.
Siegfried, also from Long Island, enters her first year at Oswego State, and is sure to play a big role in the team's growth moving forward. Despite not accumulating big minutes in goal, compared to Glasshagel, Siegfried has made her presence felt in the opportunities she has been given.
The team enters its match against SUNY Potsdam on Friday with a 4-4-1 record and there are plenty of reasons to be optimistic.  The Lakers performed well in their first taste of conference play last weekend, defeating SUNY New Paltz by a score of 2-0 and playing a double overtime tie against SUNY Oneonta. Glasshagel allowed no goals last weekend and has logged all three of her shutouts in the team's last four games.
The wins have not come easy for Oswego State so far this season, but the team will play in Potsdam on Friday with some                                       growing confidence.
"I think this weekend is definitely going to give us momentum to stay where we are, we aren't going to give up," Siegfried said.
With the eight remaining games of the regular season, all being against conference opponents, the 'Lakers have their eyes on returning to the SUNYAC Championships, and rightfully believe that they will have a chance to do it.
"The goal is to beat who's on top, to get on top, and so far I think we're showing that we are just as good as last year, if not better,"      Glasshagel said.
Whether it is talking to Glasshagel, or hearing her encourage her teammates while standing in the net, it is clear how important being the goalkeeper is to this evolving star.
"Her passion for the position is second to none. She has to overcome her height disadvantage, and she does that really well," said Tracy Blake, assistant coach. "Her communication with the back line, she sees the game really well. She's just a really good goalie."
Glasshagel's contributions to the team extend far greater than being an excellent goalkeeper, however, as she has become a leader and anchor for the rest of the team to depend on. By the nature of the game, the goalie is going to be counted on for leadership, but Glasshagel's leadership skills may even surpass her goalkeeping ability.
"The more confidence you have in yourself, the more confidence your teammates will see in you," Glasshagel said. "Even if you don't think that you are a leader, you have show that you are one, or the rest of the team will fall apart. Start from the back and work your way up."
Though Glasshagel has appeared unstoppable as of late, she and Siegfried acknowledge that playing the position is not only about saving goals, but how you rebound after you let one through.
"You need to forget it right away, go over it in your head once the game is over, and then let it go at the end of the day. Pretend it didn't happen, 0-0," Glasshagel said.
As close friends and players of the same position, Glasshagel and Siegfried do all they can to pick each other up when the other                          is struggling.
"I don't think we let each other give up. We definitely push each other to be the best goalies that we can be," Siegfried said.
For Glasshagel, being a goalie is all she has ever known and all she has ever wanted to be on the soccer field. When asked if she could imagine herself playing another position, Glasshagel's response was quick.
"No, absolutely not," Glasshagel said.
Siegfried on the other hand, was a midfielder just last year, but prefers the goalie position.
"I'm a lot better at it [playing goalie] and I have a much better handle on it," Siegfried said.
Siegfried also admits that she faces more pressure trying to save goals than score them, but neither she nor Glasshagel shy away from the competition.
"I love it the pressure," Glasshagel said.
The pressure doesn't evade when the team is scoring goals in front of these keepers though, as a big lead can sometimes increase the pressure on the goalie.
"You'll have a false sense of being able to relax," said Siegfried. "You're not as involved as the other goalie, so once they come over to your side of the field, you need to find a way to keep the same intensity that the other goalie has when getting so many shots."
Glasshagel expressed a similar sentiment.
"You have pressure on you all 90 minutes, that is never going to change," Glasshagel said.
The Oswego State Lakers are heading into their most important stretch of the season, a stretch that will likely determine whether they will get a chance to play for the SUNYAC Championship. They have the scorers, they have been well documented, but the play of the goalies continues to fly under the radar. With Glasshagel being a junior and Siegfried being a sophomore, the Lakers intend to add at least one trophy to the case before these goalies graduate.
Oswego State could have a chance to be champions this year, but whether it wins the SUNYAC Championship this year or not, the Lakers have a lot to love about the players they are putting in the net.