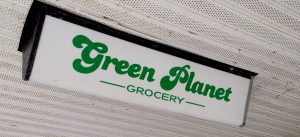 You are only in early your 20's but you're beginning to notice that you do not have as much energy as before. You have gained a little weight since you moved away from home due to some pretty bad eating habits you've picked up. Eating fast food late at night is finally starting to have its way with your midsection. Maybe you have already started exploring different diets like the Paleo Diet or the infamous Master Cleanse. What if I told you the extra pounds could disappear if you made the switch from processed foods to local foods?
Oswego has its own hidden gem, Green Planet, located on 18 E. Cayuga St. I discovered this perfect little organic grocery store after an exhaustive hunt for natural figs and prunes (to promote my poor digestive health).
I was astonished by the amount of organic products that existed. There were isles completely stocked with organic soap, spices, healing oils and candles, fruits, veggies, baking goods, vitamins, supplements, lotions, oils, grains, cheeses, yogurts, raw nuts, seeds, nut butters, vegan friendly frozen meals and my favorite: chocolates. I was in my own healthy girl fantasy. I could not believe how lucky I was to have stumbled upon this fabulous minimarket. Not only did I find the dried fruit I was so desperately in need of, but I also unearthed healthy munchies that I didn't even know existed.
As I mentioned beforehand, I love chocolate. This kind of love makes it hard to balance a healthy diet because I find sweets absolutely irresistible. I have a huge sweet tooth and desserts are where most of my fat calories derive from. How can I possibly sensibly satisfy my craving without breaking my diet? Perhaps I can combine my favorite chocolate bar with fruit or nuts in a sort of trail mix? And just as I was saying that in my head I saw them. The dark chocolate covered goodies that made my eyes tear with joy. It was astonishing.
I wanted; I needed to try them all. The cashier could feel my yearning and so she offered to let me taste the treats. At this point, I was in such high spirits I could kiss her feet. The treats included the standard: chocolate covered almonds and peanuts, but they also had chocolate covered ginger. I know people with weird food cravings like ketchup on rice or peanut butter on Oreo's, but I had no idea people wanted to coat ginger with chocolate. After sampling all of the treats I could not settle on what to purchase. I fancied all of it. Luckily, the employee had formally left the register to help me make my decision.
Green Planet has numerous natural snack selections that will not break your bank or give you that unsettling feeling that you've mistreated your body. For starters, the cashier informed me that I could get 10 percent off, just by showing my Oswego ID card. Yes! Who doesn't appreciate a good discount? Better yet, I was able to purchase a small zip-close bag filled with dried figs, dried apricots, prunes and dark chocolate covered ginger pieces all under 10 dollars. I also purchased some fruit on the side. Although this may not sound like a lot of food, fruit tends to fill you up more than other alternatives. For instance, refined sugars found in packaged cake and cookies may be delicious, but you feel hungry very soon after eating them because they are packed with empty calories. The fruit in Green Planet is unrefined therefore you get all of the nutrients within the first bite. Figs are high in iron and folic acid while prunes are a great source of vitamins and fiber. After a night out, if I had an urge to snack and I ate one or two dried figs, a few prunes and a peach. I felt as full as I would have if I ate a slice of Franco's pizza, minus the guilt.
This market is very convenient for college students who are not trying to be a part of the freshman fifteen statistic while maintaining a budget. The employees are friendly and willing to answer any questions you may have about taste, price or concerns about allergies and other food sensitivities.
I recommend exploring the market during your first visit. Do not hesitate to get lost in the aisles. You will find yourself taste-testing and trying out beauty products just for the fun of it. It's okay, I did it too. However, while you are there, make a list of things you liked. Then when you get home create a second list of problems you have that could be cured by simply changing your diet and eating more whole foods. Do you tend to break out a lot? You are in need of the Big B's: berries, beets, and brown rice. Do you constantly feel bloated and fatigued? Purchase some of Green Planets organic Greek yogurt or eggs to do the trick. Adding more raw foods in your diet can treat many disorders we suffer from.
You will undoubtedly return to Green Planet immediately after you devour your groceries. And you should. I applaud your efforts to a more healthy diet but more importantly I congratulate you in your choice to support our community. We need to support our community so that local farmers can stay in business and continue to provide us with quality foods. Local farmers take care of the produce, taking care of our health. For that reason, we should take care of them too. Stop by this market or find them online at http://gpgrocery.com/oswego for events, recipes, and café menu options if you wish to get back to eating the way nature intended.