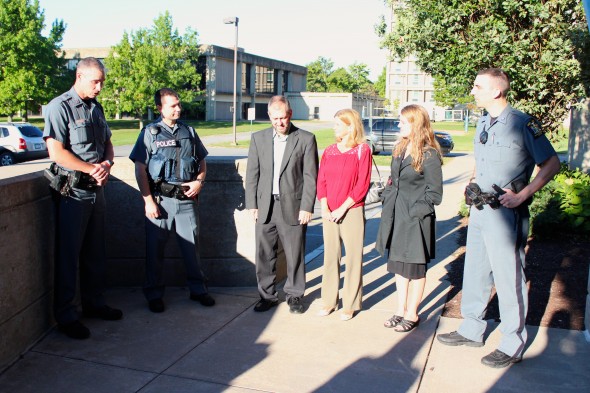 A Utica man, who suffered a heart attack during the Oswego Harborfest 5K run in July, formally thanked Oswego State University Police officers Sept. 8 for their quick actions during the incident that saved his life.
"I'm probably a lot better than when you saw me last time," said life-long runner Conrad Law who, along with his wife and daughter, was able to meet the officers at the University Police headquarters under Pathfinder Dining Hall. "I guess I was pretty much down and out when you guys came along. I can't thank you guys enough. You know, I've run a lot of races and I've always waved to everybody and all the volunteers and employees and thank them as I go by as I'm the last one going through. But my appreciation is unbelievable."
A section of the annual July race runs through the college campus. University Police Officer Thomas Woodruff was handling traffic when he noticed Law, who was wearing a Boilermaker Road Race shirt, the well-known annual Utica-based 15K race.
"I saw the shirt coming around the bend from the sidewalk, and I said 'Oh, they're almost here,'" Woodruff said. "Then when I glanced back, eight to 10 seconds later and I didn't see the shirt coming anymore. Then I looked a little closer and saw that he was down."
Woodruff immediately responded, as a nearby person called 9-1-1 on their cellphone.
University Police Officers Evan Proulx and Daniel McCarthy arrived shortly thereafter. After determining that Law was not breathing and did not have a pulse, the officers administered two shocks from an Automated External Defibrillator, which all patrol vehicles carry. They also began CPR until Menter Ambulance, Oswego State's SAVAC Ambulance and the Oswego City Fire Department reported to the scene.
"The funny thing is, Officer McCarthy is a certified paramedic and he's been working the night shift all summer long and for some reason he was on duty that day that week when this happened," said University Police Chief John Rossi.
Law was stabilized and transported to Oswego Hospital. He was then transferred to St. Joseph's Hospital in Syracuse, where he received advanced cardiac care. He was released after 11 days in the hospital.
"I've been a paramedic for 12 years. I just started my career as a police officer and in all of those years I think maybe three times I've been able to talk to somebody who's been in a cardiac arrest and been revived. So this is, it's a phenomenal feeling," McCarthy said.
Law told the officers that he was glad to be able to return to Oswego to show his appreciation.
"My thanks can't be enough, my gratitude, the right people at the right time and it showed. It saved a life. It saved my life, which means an awful lot to me," Law said.
Despite this year's incident, Law said he plans to run the Harborfest 5K again next year. He said the race has been a family tradition for the past eight or nine years. His daughter usually runs with him, but did not on the day he collapsed. She said she will be running with him next year.
"I'm a runner. It's something I enjoy doing," Law said.