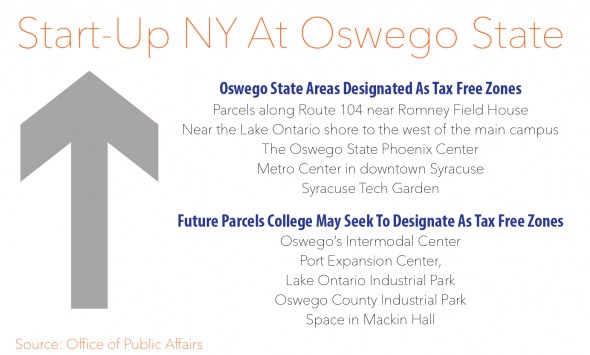 Oswego State has been approved to participate in Gov. Andrew Cuomo's Start-Up NY campus initiative, a program designed to provide major incentives for businesses to relocate, start up or expand in New York through partnerships with colleges and universities.
These businesses would be able to operate free of state and local taxes on or near academic campuses and their employees would pay no state or local personal income taxes for 10 years.
Oswego State sent a draft of its plan for participation in the governor's program to the SUNY Chancellor's Office last December. It was approved by SUNY on May 1 and by Empire State Development, New York state's chief economic development agency, on July 25. The college can begin reviewing applications from businesses interested in partnering with the university.
"I am pleased to have submitted a campus plan that we developed through a collaborative process involving review by faculty and staff and that complements our campus planning as well as the region's overall strategic economic development plan," said Deborah Stanley, Oswego State president. "Our campus plan aligns
both SUNY Oswego's mission and the needs of our region by targeting the most competitive and emerging industry sectors for business development and job growth."
The plan designates more than nine acres of land and nearly 10,500 square feet of office space as Start-Up NY tax-free zones for business development. This includes parcels along Route 104 near Romney Field House and near the Lake Ontario shore to the west of the main campus, the Oswego State Phoenix Center, Metro Center in downtown Syracuse and Syracuse Tech Garden. Future parcels and office spaces that the college may seek to designate as tax free include land in Oswego's Intermodal Center and Port Expansion Center, the city's Lake Ontario Industrial Park, the Oswego County Industrial Park in the town of Schroeppel and space in Mackin Hall on campus and in office buildings around the city and county.
"Empire State Development, which is the economic development arm for New York State, their primary goal is to create net new jobs in these innovative areas in New York State," said Pamela Caraccioli, deputy to the president for external partnerships and economic development. "So they see the campuses as legitimate partners in that effort."
Caraccioli said a lot of Oswego State graduates are forced to move out-of-state to look for jobs upon graduation, and hopes the school's participation in Start-Up NY will help provide jobs in New York State for graduates and networking opportunities for students.
"Our hope is to strengthen our relationships with business and industry in ways that benefit our learning-centered mission and grow opportunities for our student body to network and build valuable relationships," President Stanley said. "We hope to advance the growth of innovative industry sectors, including advanced manufacturing, robotics, high-precision technologies, electronics and computer software technologies, which will help our region become more competitive on a global scale."
The primary qualification for businesses interested in applying to partner with the college is that they must add new jobs, providing an economic lift to the surrounding community without endangering nearby competitors. They are also required to align with campus programs and services and must be a new start-up, or out-of-state, or expansion creating net new jobs. Companies that align with Oswego State will be able to take advantage of industry collaborative research, technology transfer research, research publications and patents, fellowships, co-op placements and internships.
Businesses that do not qualify under Start-Up NY include retail and wholesale businesses, restaurants, real estate brokers, law firms, medical or dental practices, real estate management companies hospitality, finance and financial services, businesses providing personal services, businesses providing business administrative or support services (unless the business is creating at least 100 new jobs and has received permission to participate), accounting firms and businesses providing utilities or energy production and distribution companies.
The college has started recruiting a 25-member Economic Development Advisory Board, where representatives from both the college and community can evaluate a business's application. The college has already had meetings with several business prospects.
"Applications are reviewed on campus through various committees and a review process, then they are sent to Empire State Development and they verify that they are net new jobs and also make sure the company is not creating an unfair advantage to an existing business or industry," Caraccioli said.
Caraccioli said that campuses involved in Start-Up NY have the final say in the decision whether to allow a business to come in or not and are not obligated to under any circumstances.
"It comes back to where we can find the innovative businesses and technologies that we want to bring onto campus," she said. "In terms of business partnerships, they really do need to fit with what we're trying to do with our faculty and students."
Caraccioli added she hopes any business that comes into the partnership will help the economics of the community and add jobs to the state, but emphasized that the students are the real reason Oswego State is participating.
"Our students are getting first class educations here and we'd like to keep them in New York State," Caraccioli said.