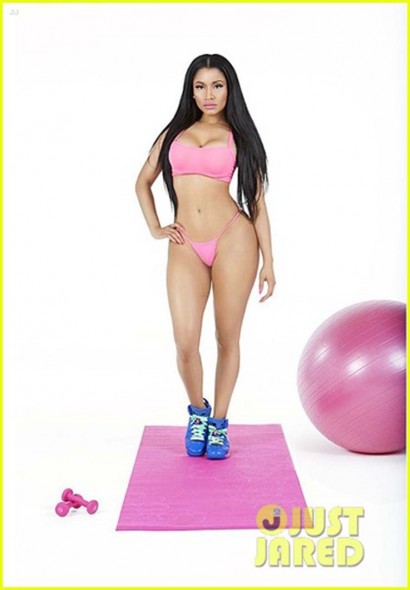 The latest talk by far has got to be Nicki Minaj's "Anaconda" video. Nicki Minaj has always been known for her risqúe behavior on and off stage, but this time did she take it too far? In 24 hours, her video bypassed Miley Cyrus' "Wrecking Ball" video landing her at 76 million views within a week! With her revealing outfits and highly sexual lyrics. Her fans were taken back on Aug. 19 when her video was released on YouTube.
Within Oswego State, there was a lot of tension and controversy over Nicki's video, often being put in the category of a "soft porn." "I'm speechless. It was absolutely disgusting! She has no respect for herself and it degraded women. It perpetuates the theory of objectifying women so how can she promote that?," Lydia Goener, Freshman journalism major said. On the other hand, die-hard fans of Nicki Minaj found no problem with the video. In fact, they loved it. "She was just being Nicki Minaj, but that's just how the industry is," sophomore Raymond Rivera said. After listening to all of the opinions on the video and watching it myself, I too believe that the video was just Nicki being Nicki.
Surprisingly, her image has actually improved over the years. She has dropped her Barbie persona and doesn't wear dramatic eyes and hair. Yes, her outfits were revealing, but they are only revealing because of her size. When thick girls wear crop tops or shorts, it looks more provacative than if a smaller girl wore it. Nicki does have a more revealing outfit choice, but so does Katy Perry, Lady Gaga and even Beyonce! The video may have had half naked girls twerking but, don't men act scandalously too? Why is it that when a woman reveals herself it's trashy, but when a man does it, it seems to be more acceptable? Furthermore, why does the "rap game" always have to sell us sex in order to be entertaining? Trey Songz's entire album "Trigga" is about cheating on women and abandoning them. He has even gone so far as to kiss girls on stage and take them backstage while he is   shirtless!
I feel as though we criticize women more because we expect them to be pure and lady-like, but we don't hold the same expectations of men to be gentlemanly and proper. They make songs about using women and call them demeaning names (i.e. "Smack That" by Akon, "Wildflower" by Ghostface Killah and "No Hands" by Waka Flaka). In my opinion, the music industry pushes rappers, especially the few well-known ones, to sell sex instead of good music.
Beyond our beloved Nicki Minaj, there is also Lil Kim and Iggy Azalea. Their personalities might be sweet and innocent, but their music and videos are filled with the same theme: sex, money, drugs and alcohol. These are the only themes that     sadly, but truly, the majority of young adults want to listen to. The way Nicki MInaj was first introduced to the public makes it hard for her to go back underground and talk about her childhood and how hard it was where she grew up. Just like beauty is in the eye of the beholder, so is talent and passion. Nicki Minaj loves what she does and she loves her fans. There is more to Nicki Minaj than her      album "Pink Friday."