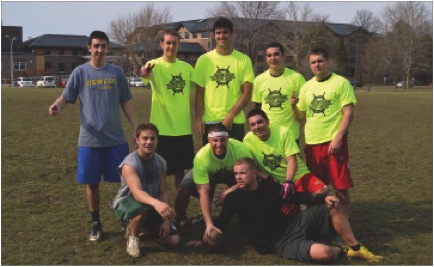 While the end of the semester is near, there is still time to attend fitness classes in the Lee Hall pool.
Aqua Fitness takes place on Mondays and Wednesdays from 7-8 p.m. until April 30 and Aqua Zumba is on Thursdays from 7-8 p.m. until May 1.
Campus Recreation started open recreation floor hockey this past weekend, which takes place in Swetman Gymnasium on Saturdays from 11:30 a.m. until 2 p.m., with the exception of this Saturday. The program will conclude on May 3.
There is still time to register for the Delicious Nutritious Cooking Class, which will take place April 25 from 2:30-4 p.m. in Hewitt Union kitchen.
Do not forget to sign up for the Color Oswego Fun Run and Walk. The online registration deadline is April 30 and on-site registration takes place on May 2, from 3:30-4:15 p.m.
The event starts at 4:30 p.m. outside of Glimmerglass Fitness Center.
Walking to Wellness got underway on April 1 and will remain in progress until April 30.
The 102 participants will log their steps with a personal pedometer to reach their fitness goals. Open recreation will still be in full force through the end of the spring semester.
The flag football 7-v-7 tournament came to a close this weekend, as the champions for the women's, co-rec and men's leagues were crowned.
Games were played on Friday, Saturday and Sunday on Swetman Field behind Lee Hall.
Rhonda's Angels and Flag Snatchers served as the only two competitors in the women's flag football tournament.  Rhonda's Angels, led by captain Paula Egelston, won with a score of 29-14.
A majority of Rhonda's Angels consists of the women's basketball team and they dedicated their team name to Rhonda, who does laundry for varsity athletes in Laker Hall.
"We wish there was more competition in the women's tournament, but we are just happy to be able to play," said Egelston. "After a sloppy and muddy first half, we ended up getting some key touchdowns to win the championship."
In the co-rec tournament, Riggs Pigs defeated Kiss My Asomugha 12-9.
Kiss My Asomugha looked to be a tough side to beat as they came into the finals. The team, led by captain Christina Lynch, shutout Touch Down for What, 41-0. They then advanced to the championship via a forfeit by Oswego State Eagles Saturday afternoon.
Riggs Pigs had also dominated earlier in the tournament. The team triumphed over Firebirds 37-6 in the quarterfinals on Friday afternoon and it did not disappoint in the semifinals on Saturday afternoon, defeating The Labatt Blues, 24-6.
"Our defense was pretty good, but our biggest challenge was the offense," said captain Joseph Millert. "The girls had some difficulty, but they were able to pull it together for the win."
In the men's tournament, reigning champions Beaver Bandits secured a 35-12 win over Hustlin Homies.
The Beaver Bandits had a long fight to get to the final round. In the quarterfinals, they conquered the Rolltiders, 42-0, and finished off Dillion Panthers in the semifinals, 19-13.
"Playing that many games in one weekend takes a toll on your body, but I feel great about the win," said captain Andrew Falvey.
Campus Recreation held its annual table tennis competition in Johnson Hall on April 9.
The event was originally scheduled for February 26, but was rescheduled due to the bad weather.
However, the change in date did not discourage participants from coming out and playing in the tournament.
Students faced off against one another in the singles and doubles brackets.
"Originally, we had 16 teams for the singles, two for doubles and one women's signed up on imleagues.com," said Mitch Galvin, Campus Recreation graduate assistant for intramural sports.
More teams walked on during the on-site registration period, which came as a nice surprise.
"We ended up with six doubles, so we had a good turnout," Galvin said.
Jong Heon Kim won the singles bracket and also his partner, Eugene Lee, won the doubles bracket.
Games for the men's competitive dodgeball league were played last on April 10 in Swetman Gymnasium and carried over into Monday and Tuesday night.
Of the 22 teams participating in the men's competitive league, many proved to be standout competitors.
Optimus Prime is the only team that remains undefeated with eight wins. Purple Cows trails right behind with a record of 8-1.
"I've been having a lot of fun with it," said Alex Jurczynski, captain of Red Rockets. "I played dodgeball in high school and I was on a professional dodgeball team that made it in the Guinness Book of World Records."
In the co-rec competitive league, Optimus Prime is ranked No.1 with a 9-3 record and is followed by the Rolltiders with a 6-3 record.
O'Doyle Rules is the leading team in the women's league, with a 5-1 record.
Regular season play for the dodgeball league will continue until April 24. The top-seeded teams will continue on to the playoffs after the regular season concludes.
For all building and pool hours, and other information regarding Campus Recreation news and events, visit oswego.edu/campusrec or call Lee Hall at (315) 312-3114.