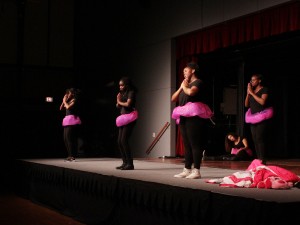 At 7 p.m. on Sunday, Nov. 8, people from on and off campus gathered in Hewitt Ballroom for Oswego's Got Talent 2015.
This year's talent show was hosted by Earnest Washington, with help from his young son Ethan, who opened up the show with a little dance. The judges were Mihoko Tsutsumi from the music department, student Kate Bailie, Dr. Jerri Drummond from the Student Affairs department and Student Association President Christopher Collins-McNeil.
The audience wasn't very lively, but the performances given on stage made up for it.
Tyler Campbell was up first with an original rap performance. Following Campbell was Lamont Sadler, who danced and lip synced to Michael Jackson's "Billy Jean", masterfully executing the moonwalk. Next, Evan Debevec-McKenney played the guitar and harmonica to accompany his original song "Belle," a war protest song stylized as letters written to a long-distance lover. The audience was captivated by Debevec-Mckenney's song, and started clapping along.
Every few acts, Washington attempted to pump up audience's energy by having the DJ play music. Many audience members did stand up and dance in the seats and in the aisles, two of them even stepping up on stage to demonstrate to the host what "shmoney" and "milly rock" were.
After this very brief intermission, members from Oswego's African Student Organization (ASO) danced to a mash up of 10-second clips from a various songs, including "Wannabe" by Spice Girls, "Waka Waka" by Shakira, and "Wiggle" by Jason Derulo. If the audience was asleep before, ASO's performance definitely woke them up. Next up, Tehillah, a freshman from Washington, D.C., sang "Hurt" by Christina Aguilera. The next act was put on by Oswego Image, which performed a skit of a daughter trying to convince her mother that her dolls were alive, accompanied by a dance of the stepping 'dolls.'
With that final performance, the host called for a seven minute intermission, during which the DJ was to play whatever he could to get the audience to dance while the judges decided the winner. The DJ successfully got at least eight people out of their seats, including two previous performers and one audience member, who went on stage to dance.
Though everyone performed well, there could only be three winners. There was a tie for first place between ASO and Sadler, so each of them performed once more routine with different songs. ASO danced to another music mash-up, Sadler to Michael Jackson's "Black or White." Both performed well, but in the end Sadler came in first due to the high amount of energy from him and the audience. As the first place winner, Sadler won $500. ASO, in second, earned $300. In third place was Campbell, whose originality was rewarded with $200.