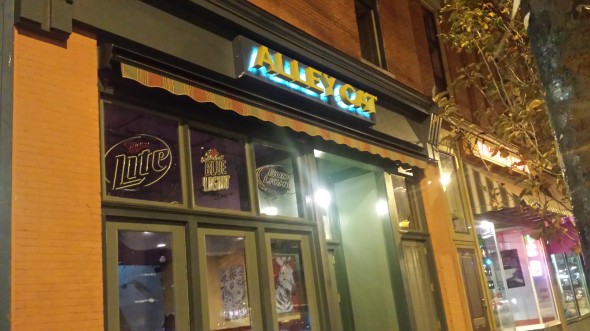 Many of us refer to Oswego as "the middle of nowhere in upstate New York," but Oswego is, in fact, world famous. The city of Oswego once won the "Guinness Book of World Records" award for having more bars per square mile than any other city in America. This can mean only good things for those of us above the legal drinking age. In the name of turning up, behold: reviews of popular bars in Oswego. Read up, drink up and come back next week for more.
Where it's at: Bridge Street between West Second and West Third (right next to Hong Kong)
Why it's great: The Raven's set up is ideal for socializing. Picture a donut-shaped counter in the middle of the bar; whether that design is to keep the bartenders in or the bar-goers out is open to interpretation. To the left of the counter is a built-up dance floor, so you can shake your groove thang, or if you're single and trying to mingle, the right side of the bar is an alcove of booths perfect for your very coherent conversations.
Thanks to its dual-personality setup, the Raven is accommodating for all types of nights.
"I like the Raven because it has really great music and you can dance, or just hang out and talk to people," said senior Megan Maye. "The bartenders serve you pretty quickly from what I've experienced."
Translation: when you're at the counter ordering your rum and coke and Trap Queen comes on, you don't have to panic. You'll make it back to the dance floor with plenty of time to twerk it to Fetty.
Where it's at: the corner of Market Street and West First (exit through Ferris Wheel's side door, turn left)
Why it's great: They serve grasshoppers. Not to be confused with large, leggy insects; a grasshopper is a light, heavenly cocktail made with mint crème. The bar is moderately hipster and severely under appreciated.
Where it's at: just past The Raven on Bridge Street, there's a door set into a brick wall. If you don't stop and look around, you could miss it; and that would be a shame. Through this door is a steep staircase, don't climb it after a leg day. Like all tough summit climbs, this one includes a rewarding view. Unlike summit climbs, this view isn't overlooking rocks so much as appreciating what is poured over them.
Why it's great: it is mad chill. The retro ambiance facilitates a prime hangout session.
Student input: Seniors Kaylyn Izzo praised the bar's atmosphere.
"It's really laid-back, and they play mostly older music," Izzo said. "It's a bar where people just go to hang out, and not to pick someone up."
Does she mean that you can hit the bars and avoid getting hit on by someone still wearing the scent of their last parole hearing? That was a mostly rhetorical question, but just to clarify, the answer is "Yes!"
"You get more for your money when you buy your drinks there," continued Izzo. I can personally attest to this; I ordered a tequila sunrise and had to ask the bartender to pour some off and add more orange juice. This kind of occurrence is not only rare, but slightly magical.
The Sting

Where it's at: the corner of Bridge Street and West Third.
Why it's great: "This bar is lame. There's nothing to do here." Sound familiar? Maybe you're over dancing because that's "sooo freshman year" but when you hit the "real" bars you find yourself hopelessly bored with nowhere to drink. It'll be alright; the Sting will take your hand and hold it tight. The Sting solves your night-out dilemmas with several gotta-have-it features, such as free covers for us broke college students, darts, pool and a jukebox. Clutch.
Student input: "I like the Sting because there's always good music, yet it's a low enough volume that you can still socialize," said senior Laura Baden. "Drink deals, free covers and an outdoor [patio] for nice weather."

Greene's Ale House
Where it's at: West eighth, across Bridge Street from Byrne Dairy
Why it's great: it's your classic sports bar with all your favorite eats; burgers, wings, etc. You don't have to finish your 30 rack to have a good time at Greene's. Bring yourself, your appetite and your game-day jersey.
Student input: "I love the atmosphere," said senior Derek Sexton. "They have Yankees banners and other sports décor all over the place and run games on all the TVs."
Why refresh your ESPN app every ten seconds when you could catch the game on a flat screen?
"It's a place I'll go after class to have a drink, watch a sporting event," said senior Ben Green "When friends are in town [Greene's] is the place we go to catch up and eat good food."