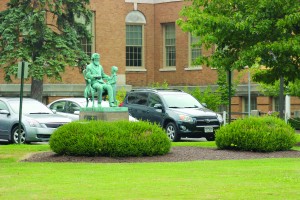 The Princeton Review recently released its 2016 edition of the "Best Northeastern Colleges," an annual catalog of exemplary universities based on college student surveys. Oswego State is featured among 225 schools in the region; however, the list does not give each school a definitive ranking or scoring number.
This is not be the first time Oswego State has received high praise. This past academic year, U.S. News ranked the university as No. 56 in its expansive list of best colleges in the North, as well as one of the 15 best public institutions in the region.
"Oswego is a good school and it shows when people make comparisons," said Julie Blissert, Director of Communication and Marketing. "Rankings didn't used to be as pervasive as they are today, but even 30 years ago we were in such guides as 'How to Get an Ivy League Education at a State University' and Barron's 'Best and Most Popular Colleges'. We've been in The Princeton Review's 'Best Northeastern Colleges' every year since it began."
The content included in The Princeton Review's student surveys was comprised of satisfaction with academic programs, student relations and administrative support, among other encompassing criteria.
"As competition heats up among colleges in the Northeast, Oswego is doing especially well because we are a very welcoming place," said Blissert. "We have a lot of outstanding faculty who are doing great work in their fields and like to partner with students on their research and creative projects and use their professional networks to link students to opportunities for applied learning in the business and nonprofit communities. Our students have a lot of support available to help them get an outstanding education and life experience that prepare them for a successful future."
Even though a large percentage of students are in-state residents, Oswego State is still attractive for students who wish to live out-of-state or region and trek to their university.
"Oswego is a tremendous value! Not many campuses- SUNY or private- have the facilities we have, the programs and majors, and certainly not our lakeside location," Dan Griffin, Director of Admissions, said.
Four percent of students attending this academic school year are from out of the state or country.
According to Griffin, Oswego State does in fact compete with most other SUNY institutions, including Geneseo, Albany, Oneonta and Binghamton. This is reflected by Oswego State's frequent inclusion in varying reviews.