Every Thursday evening through October, West First St. will be blocked off as vendors sell everything from fresh fruits and vegetables to cupcakes and fudge.  The Oswego Farmers' Market is brought to you by the Greater Oswego-Fulton Chamber of Commerce and runs from 4:30 p.m. to 8 p.m. starting in May.
The market brings a variety of vendors; some who just sell their product at the Oswego's Farmers' Market and others who travel to other local markets during the week.
A prime example of a vendor who travels to other markets during the week is Molly Buchanan, who purchased her uncle's company "Buttercup Cheese."
"Personally, I do the Oswego market on Thursday, the Baldwinsville market on Wednesday and then me and my husband go to the Syracuse market on Saturday," Buchanan said.
The cheese being sold gets made in Adams, N.Y. and then sent to 70 mom and pop stores and farm stands around central New York.

While Eisela Schneider on the other hand only attends the Oswego market.  Through her company Maplegrove Farm in Sterling, N.Y., she sells and makes her own jams and jellies.
 [su_youtube url="https://www.youtube.com/watch?v=jdlMDLlhMEw" width="1080″ height="720″]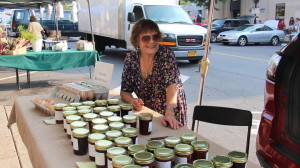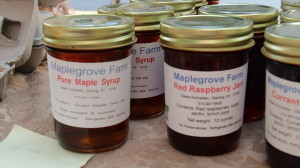 Local resident, Jodie Osmun actually sells baked goods from her company "Sweet Shop: Cakes and Cookies" from home.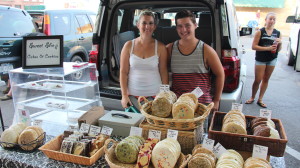 From chocolate chip, peanut butter, oatmeal raisin cookies to fudge brownies and chocolate-covered strawberries, Osmun also sells her products to local convenience stores such as Rise & Shine and Oswego Xpress Mart.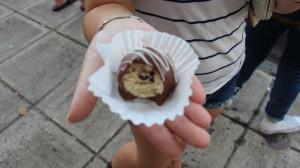 Carl Green an Oswego resident, primarily comes to the Oswego market to sell dog bones from a company named "Kevin's Smoked Beef Bones for Dogs," owned by his friend of 15 years.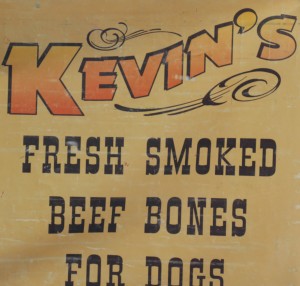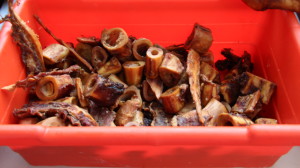 However he says "there's other people that go to other markets" such as the CNY Regional Market to vend the bones.
 [su_youtube url="https://www.youtube.com/watch?v=N6Ws6f7qu6M" width="1080″ height="720″]
14-year-old, singer/songwriter Kenzie Chapman added a little bit of entertainment to this week's market, performing from 5:30 p.m. to  7:30 p.m.  Chapman is new to the Oswego area, previously entertaining crowds across the Gulf Coast.
 The Oswego Farmers' Market is an opportunity for vendors both local and  from around New York state to sell and market their products — as well as a community builder for the Oswego community and students attending SUNY Oswego.
[su_youtube url="https://www.youtube.com/watch?v=4hOzzW8ht9c" width="1080″ height="720″]