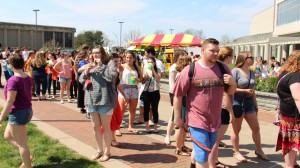 Student Association Programming Board and Student Association presented the first ever OzFest to celebrate the last day of classes on May 8.
In October, Oswego State President Deborah Stanley spoke at a Student Association meeting regarding her and the schools pledge to "redouble efforts to discourage intoxication" following the death of one student and the hospitalization of two others during last year's annual bar crawl Bridge Street Run as a result of heroin overdoses. One student was hit by a trolley and hospitalized on the same day.
Stanely said one effort was to have an "attractive alternative celebration on campus" that students could enjoy before finals week begins.
On one of the hottest days of the year in Oswego, attendees braved the heat to enjoy some things inside and out of the Marano Campus Center.
From 2 to 6 p.m. students had the opportunity to enjoy free activities in front of the Marano Campus Center.
Some outdoor activities included mini golf, stuff-a-buddy, bungee jumping, caricature drawings, a dunk tank and the chance to get your fortune told.
[su_youtube url="https://www.youtube.com/watch?v=pXZmz8heXH8&feature=youtu.be" width="1080″ height="720″]
Inside, before 5 p.m., there were corn dogs, smoothies, popcorn, and ice cream sundaes being served to combat the heat and everyone's hunger.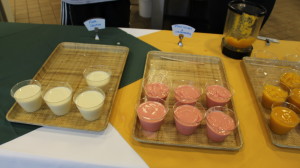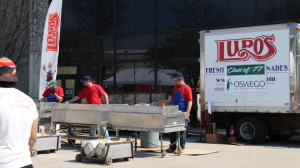 Once 5 p.m. hit there were nachos, chicken kabobs, and more served by various vendors and Auxiliary Services outside of Hewitt Union.
University Police Chief John Rossi, who was on campus from 9:30 a.m. Friday until 2 a.m. on Saturday, said the turnout of the entire event was more than expected considering this was the first time an event like this has been offered to students.
As the carnival portion of Ozfest was coming to a close, the doors of the Marano Campus Center were locked, with only authorized personnel allowed in.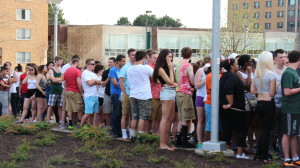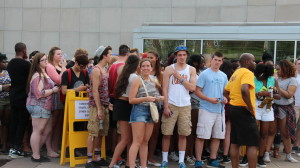 As a line on another entrance of the building began to form for the 7 p.m. concert, Mac Miller, B.o.B, Time Flies and Big Sean did their sound checks for the night's concert.
With 14 officers inside campus center and five on patrol, Time Flies featuring Caleb Shapiro and Rob Resnick opened to a sizable crowd some with student still in their white Bridge Street Run T-Shirts.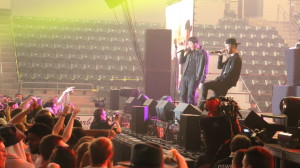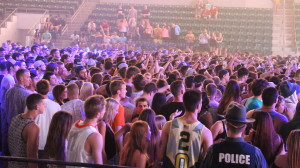 Multiple songs later, the crowd went crazy after they performed a freestyle rap about Oswego.
Once Mac Miller came on, the crowd grew a bit larger. B.o.B followed as Big Sean closed the night.
Miller declined any interview prior to his performance at the meet and greet.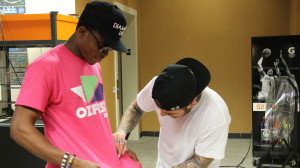 Sophomore, Alyssa Aldrich said B.o.B was without a doubt her favorite performer of the night.
"I thought B.O.B. was the best because he interacted with the crowd," Aldrich said.
His crowd surfing was exciting was for many fans. Even performing an old favorite "Airplanes" during his set.
Many students who attended the concert said they saw multiple "fights" throughout the duration of the concert, all of which resulted in someone being taken away by an officer.
During B.o.B.'s performance an audience member passed him what looked like marijuana. Although, Rossi said there was no way to tell whether or not it was marijuana being passed onto the stage.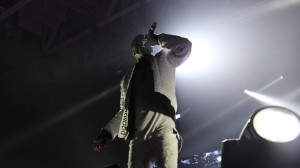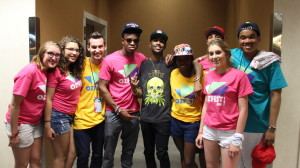 Closing out the show with more songs than expected, Big Sean performed songs like "Blessings", and his world -wide hit "I Don't Fu** With You".
Looking into the crowd at Ozfest there were many students coming from BSR, still wearing their white T-shirts covered in sharpie signatures.
"There were not any crowd problems, complaints or any more arrests than on a usual springtime Friday night." Rossi said. "Complaints and arrests were significantly down from the previous years".