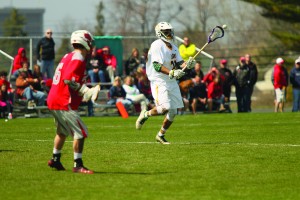 Heading into this weekend against SUNY Geneseo, men's lacrosse is looking for its first conference win in two years, and Senior Day is the final chance for the outgoing players to do so.
"It's important that our seniors, who put in four years of work, are leaving feeling accomplished and have a good taste in their mouth when they leave," head coach Drew Bezek said.
Bezek also said that it is important to build momentum for the underclassmen heading into the offseason and moving forward next year.
"Since it's a conference game, it's a huge set-up for next year," Bezek said. "For us to be able to propel ourselves with a little bit of confidence into the offseason, into recruiting and into the fall and be ready for the next season."
Bezek, who was hired in December to replace Ryan Martin who left for Hartford College, is dealing with players graduating for the first time in his first head coaching stint.
Senior midfielders Nick Giampaolo and Cody Hoose explained the relief they would feel if they won the last game of their collegiate careers.
"It'd mean a lot, and it would mean a lot for all of the seniors too," Giampaolo said. "We put a lot of time into this, and for two years in a row not to see any results, it's definitely pretty frustrating."
"To come out and beat Geneseo on a home field and on our Senior Day would be incredible," Hoose said.
Hoose, who has been with the team since 2012, is tied for fifth all-time in Laker history for points (155), and is second in assists (94). Hoose needs four assists to tie the all-time record in assists, set by Russ Leto in 1997.
"Lacrosse is nonstop hard work all over the board," Hoose said. "You have to work as hard as you possibly can to be a contender in anything."
Hoose, Giampaolo and senior midfielder Matt Palmer all talked about the message that they want to leave with their team and the example that they want younger players to emulate.
"Be consistent," Palmer said. "Facing adversity is something that we always deal with. It's all about coming out, no matter what the conditions are, putting that stuff aside and playing our game and working hard. "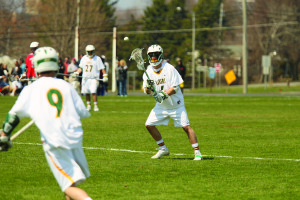 Giampaolo said his message to the underclassmen was to "keep fighting and keep trying."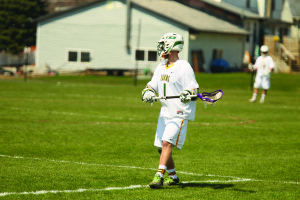 Giampaolo talked about enjoying his four years of collegiate sports  and making the most of the people he met and the times he had. He wants the younger players on the team to remember their time and reflect on it positively.
Bezek spoke on the experience of dealing with the emotions of Senior Day and the week leading up to the final collegiate game of a player's career.
The seniors have experienced Senior Day before, but from the perspective as underclassmen and knowing that there was always next season.
"You don't really realize it when you're a senior because you're just used to coming back every year," Bezek said. "It never really sinks in until after the game and you realize it's the last time."
Bezek wants his players to remember being on the field for one last time and cherishing the opportunity to play with teammates in a game they enjoy.
"It's surreal," Palmer said on playing his final collegiate lacrosse game. "You see these guys do it on Senior Day and you think about how it's in the future, but now it's up for us. It makes us work that much harder. We don't want to go out on a bad note. Looking back at my three years, I think I've had a pretty good career, but I want to end up on a high note. It's a little motivation to finish this week out strong, and come Geneseo, leave it all out on the field."
Oswego State will play SUNY Geneseo Saturday at 1 p.m. in the final game for 10 seniors on this team, who will look to close out their careers with a win.