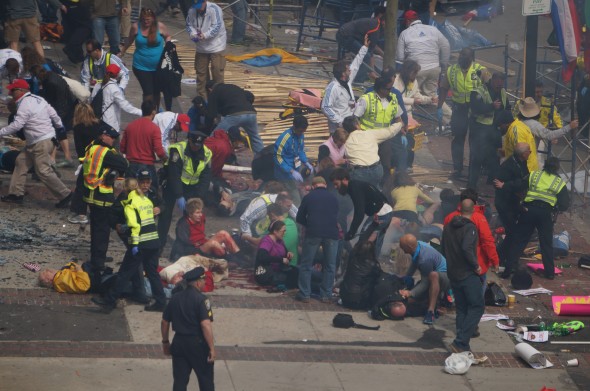 It has been two years since Dzhokhar Tsarnaev and his brother Tamerlan pulled off the deadliest act of terror on American soil since Sept. 11, 2001. But the living Tsarnaev brother should not be sentenced to death for his crimes.
On April 15, 2013, the Tsarnaev brothers detonated a pair of bombs at the finish line of the Boston Marathon, killing three and injuring 260 others. During the pursuit of the duo over the four days following the attack, Tamerlan Tsarnaev was killed in a shootout in Watertown, Mass., leaving his younger brother to stand trial. The pair also killed a Massachusetts Institute of Technology police officer during the chase. Dzhokhar Tsarnaev is guilty on all 30 charges, but the jury would only be giving him what he wants by putting him to death.
In a note he etched into the side of the boat he was hiding out in when he was captured, Dzhokhar Tsarnaev said he was jealous of his brother who had passed away. He believed Tamerlan Tsarnaev died a martyr for the cause. The brothers claimed the attack was in response to American forces killing innocent Muslims in the Middle East. Dzhokhar Tsarnaev would see himself as a martyr for this cause as well if executed by the federal government.
When the penalty phase of Dzhokhar Tsarnaev's trial begins, his defense team plans to convince the jury that his older brother manipulated him into committing the acts, according to NBC News. If such is the case, it only makes sense that the true planner of the attacks should be the one to die, while his accomplice is kept alive. Tamerlan Tsarnaev is already dead, so leave the killing at that.
The city of Boston rallied together with support from around the country under the #BostonStrong movement following the attacks. Since then, the city has continued to put the attack behind it and prove no act of terror can keep it down. It is time to continue the trend toward making the story of this incident about the resilience of a city, not the men who failed to break the city and the nation's spirit.
If Dzhokhar Tsarnaev is sentenced to death, it could be years before he is actually executed. According to NBC News, Louis Jones was the last person given the death penalty by a federal jury. He was convicted on the murder of a young female soldier in 1995, but was not executed until 2003. By that math, Dzhokhar Tsarnaev may not be killed until 2023. He should not continue to make headlines any longer. If he is sentenced to life in prison, he will become another prisoner convicted on acts of terrorism in a U.S. super maximum-security prison. If he wants to make news for his cause, then the courts should put him in a position to fade into obscurity.