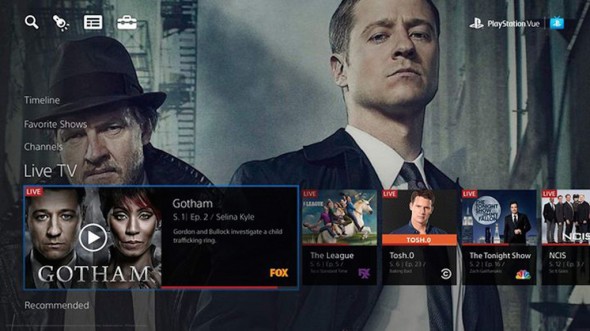 The television industry is continuing to evolve with the release of Playstation Vue, an online TV streaming service through Sony's Playstation 3 and 4 gaming systems.
As of right now, the service has only been released in three cities including New York, Chicago and Philadelphia, according to ABC News. There are currently three payment options, all of which add programming the more the customer pays.
For the $50 base price, customers are able to access channels such as Nickelodeon, Animal Planet, BET, Bravo, Cartoon Network and Adult Swim, MTV, TBS, USA and TNT. For $10 more, sports-oriented channels become available, such as Golf Channel and the YES Network. Finally, for another $10, various Fox and MTV sub channels are attainable, among others as well, ABC News stated.
Staple broadcast stations are also included, which contain the likes of CBS, Fox and NBC.
Other advantages for this service include being able to sign in to on-demand streaming services with your Playstation Vue account. Turner and Fox on-demand services are presently offered, with more on the horizon. NBC Universal, Viacom and Scripps will become accessible to sign into using a Vue password.
DVR storage is also unlimited for 28 days, along with the ability to access shows from up to three days prior.
This new package serves as but another option for those who wish to minimalize their entertainment experience by migrating to one simple box.
At this moment, stations consisting of ABC and ESPN are not available to customers. However, the beauty of this service is they can always be added later on.
This kind of technology is designed to be a cable provider killer. With a simple Internet subscription, customers have the ability to cut ties with cable companies and their hassle. Instead of worrying about paying complicated cable bills every month, $50 to $70 is automatically taken out of your account. This does, however, present a problem if people fail to plan around that.
Sony's Playstation systems are quietly becoming all-in-one devices that have the ability to be a real competitor to cable behemoths like Time Warner and Comcast. The Playstation 4 already boasts state-of-the-art gameplay, an unlimited music service, video streaming services like Netflix, Hulu Plus and the WWE Network. With the addition of Playstation Vue, the Playstation 4 is arguably the best option when it comes to entertainment.