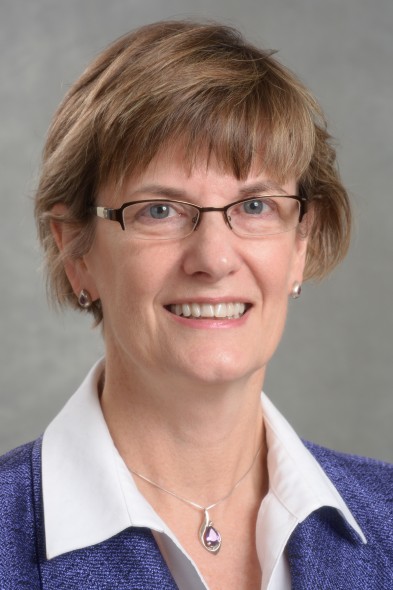 After serving Oswego State and her community for 30 years, Julie Pretzat, the associate dean of The School of Communication, Media and the Arts, will take over as dean, effective this summer.
"In her 30 years at SUNY Oswego, Dr. Pretzat has distinguished herself through excellence in teaching and mentoring students, extraordinary productivity in the performing arts and, most recently, accomplishments as an academic administrator and campus community leader," said Oswego State President Deborah Stanley when making the announcement.
Beginning her collegiate work at Oswego State in 1985, Pretzat served as the director of choral activities and currently teaches the intermediate melodic course, Music Theory 200-201. Raised in the suburban town of Hartsdale, N.Y. Pretzat was surrounded by professional musicians. Her mother, a professional vocalist for The New York City Opera House, inspired 10-year-old Pretzat to engage in musical pursuits.
"I made my operatic debut on that stage when I was 10," Pretzat said. "I sang, played piano, pipe organ and flute all through school. I had the opportunity to study choral conducting as an undergraduate and that became my passion."
Pretzat's formative years were spent at Smith College in Northampton, Mass., where she attained a bachelor's degree. Later in her academic career, Pretzat pursued a master of music degree from the University of Michigan, and a doctorates of musical arts in choral conducting from the College-Conservatory of Music at the University of Cincinnati, according to the Office of Public Affairs.
"I look forward to working every day because I get to work with bright students and colleagues," Pretzat said. "I have always been energized by being part of [a] community of lifelong learners. I loved the college atmosphere so much that I really never left."
As a leader in Oswego State's School of Communication, Media and the Arts, Pretzat orchestrates an endearment for academia through a plethora of leadership positions. In 2012, she co-chaired the Middle States accreditation review for Oswego State. In 2010-2011, she created the school's Adopt-a-School program and led the development of a new interdisciplinary minor. For six years, Pretzat chaired Oswego State's music department.
"I have gotten great joy from opening up new worlds for my students," Pretzat said."The best part about working at Oswego is that I have always been supported here to follow my dreams and try new things. No one ever threw barriers in my way. I have been allowed to think big and offer my students opportunities they might not have thought possible."
Before his imminent retirement, Fritz Messere, the founding and current dean of The School of Communication, Media and the Arts explained that he is proud of his colleague. Through the excellence shown in Pretzat's previous work, Messere is confident she will concentrate on the systemic growth of the discipline.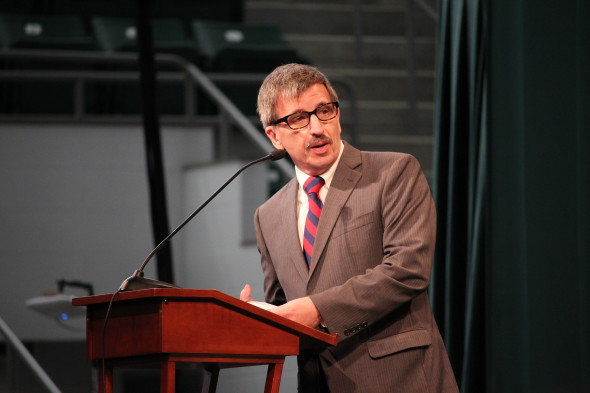 "I have worked closely with Julie for many years. She will make a terrific dean," Messere said. "Julie is caring, smart and knows how to get things done.  She has a great sense of what students want and need, so I think this will be a great time for SCMA."
In his retreat from the school, Messere, who has fostered the academic success of students for over a decade, hopes to explore a world outside the classroom.
"I want to do more travel photography and more traveling to the great national parks," Messere said. "I plan to continue to work on the Tyler [Hall] renovations and stay connected with all of the great activities in SCMA like Media Summit."
While Messere engages in leisure activities off campus, Pretzat, as the new dean, is eager to advocate for the educational opportunities of students throughout the college community.
"I am really excited about the possibilities of our School of Communication, Media and the Arts," Pretzat said. "There are so many interesting connections we can make between our disciplines and others across campus."
During the 2015-2016 academic year, in her position as an academic administrator, Pretzat explained that she will offer both students and faculty the tools needed to achieve academic prosperity.
"As dean I will work more with program development, faculty and staff management, and finding ways to support my colleagues in their work, scholarship and teaching," Pretzat said."My job is to make their work meaningful so students can get the very best from them."
Pretzat's designation as the new dean becomes effective on July 1.