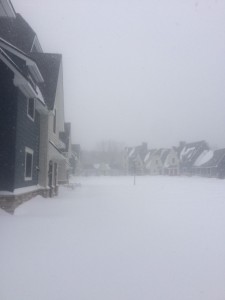 Oswego State canceled all classes starting at 4:30 p.m. or later Monday evening as a result of a snow storm that has impacted much of the Northeast.
Students and faculty were alerted at 1:34 p.m. by the SUNY NY-Alert system and its Twitter page. Evening classes are those starting at 4:30 or after. This is the first time this academic year that a campus-wide cancellation has occurred at Oswego State.
According to the National Weather Service, a winter storm warning remains in effect until 7 p.m. this evening and a wind chill advisory in effect from 7 p.m. this evening to 10 a.m. Tuesday for Oswego County.
Snow will continue throughout the late afternoon hours and up to another two inches of snow accumulation are predicted for the overnight hours.