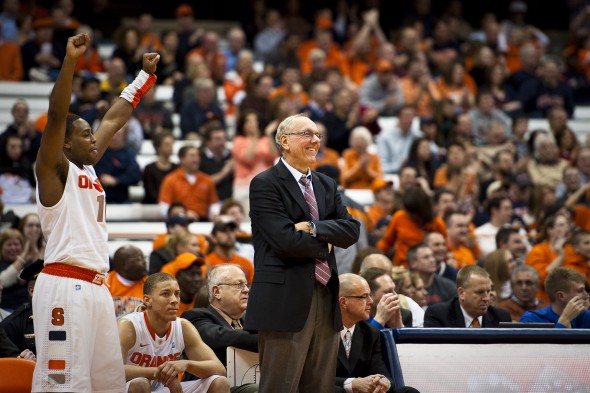 Legendary Syracuse Orange men's basketball coach Jim Boeheim was at the River's End Bookstore in Oswego on Nov. 17, signing copies of his new autobiography, "Bleeding Orange: Fifty Years of Blind Referees, Screaming Fans, Beasts of the East, and Syracuse Basketball."
The autobiography, which chronicles Boeheim's illustrious career at Syracuse University, beginning as a student in 1962, was released on Nov. 4.
One of the owners of River's End Bookstore, Bill Reilly, is a longtime Syracuse Orange basketball fan, and was delighted at the opportunity to have Boeheim visit.
"We contacted the publisher about six months ago, and asked if Mr. Boeheim would be interested in coming to our store," Reilly said. "After he got back from Spain over the summer, we heard back from the publishing company, and they told us that he would love to come."
Reilly insisted he is not the person to talk to for analysis on the Orange men's basketball team, but was feeling optimistic about the team early in the season.
"I'm not the one to ask," Reilly said. "I'm not the expert. They are 2-0 right now, and I think they're off to a great start."
In the autobiography, Boeheim along with co-author Jack McCallum, discuss the dominance of the NCAA Big East Conference in the 1980s, Boeheim's relationship with Duke University head coach Mike Krzyzewski, the Orange's national championship victory in 2003 and many other topics spanning across Boeheim's 39 years as head coach of the Orange.
Boeheim was celebrating his 70th birthday on Monday as well. Boeheim is both a local and a national icon, but he is not the first major name the bookstore has hosted.
"We've had many big names at the bookstore over the years," Reilly said. "David McCullough has been here, Frank McCourt, Laurie Halse Anderson, Barry Lyga and just a ton of great authors."
Being located close to Syracuse, the turnout for Boeheim's signing was substantial and Reilly was very satisfied with the success of the event. The temperature was low, and the winds were blowing in Oswego, but that didn't stop the Syracuse Orange fans from turning up to meet the prolific coach.
"It was huge," Reilly said. "We sold 500 books; we sold out of all the books we had. We've taken orders for at least another 100 books. It was probably the largest single event we've ever had."
The River's End Bookstore is still accepting orders for "Bleeding Orange," and after the success of Boeheim's event, you can expect them to host another distinguished author in the near future.