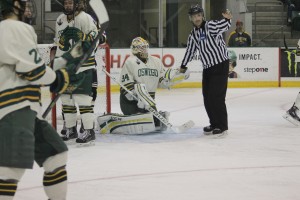 No. 2 Oswego State finished its celebration of the program's 50th anniversary with a decisive shutout victory over Nazareth College on Saturday night, 4-0.
Early goals by sophomore Andrew Barton and freshman Mitch Herlihey helped the home side gain the lead, but two power play goals by sophomore Matt Galati put the game away.
Laker head coach Ed Gosek was much more pleased with his team's start on Saturday night than he was on Friday night against SUNY Canton.
"I thought we got off to a good start," Gosek said. "We had good energy, made simple plays early on and got a couple bounces to open things up and thank God we did."
Nazareth College came out and challenged the Lakers from the start and earned equal time in the offensive zone throughout the first five minutes of play. Oswego State countered the Golden Flyers' speed with physicality and were finally rewarded at the 6:06 mark of the period.
It was Barton with the game's first tally, his third of the season. The Stratford, Ont. native picked up the puck skating through the right circle and sent it on net. After some help from a deflection, the puck sailed over Golden Flyer goaltender Brandon Lane's shoulder and in.
Gosek thought his team upped its hustle and play along the boards against the Golden Flyers and that it benefited them well.
"I thought we were more aggressive and I thought we did a good job of protecting the puck along the wall," Gosek said. "Wall battles, I think we were better and we were grittier. Our positioning, I think we were cheating a little on the offensive side, but our gap defense was good and we didn't give them a lot of room to make plays inside our zone."
Lane was making his Division III debut after transferring to Nazareth College from Division I Robert Morris. The sophomore finished with 24 saves.
Just three minutes later, Oswego State struck again off the stick of Herlihey to expand its lead to two. Herlihey beat Lane stick side off a feed from his linemate, Galati. Senior captain Bobby Gertsakis earned the secondary assist.
Herlihey is one of several newcomers to see more playing time with the Lakers facing early season injuries. Gosek
"It's the depth that you hope you have," Gosek said. "There's an overlap there that you have a lot of players that you can use and pick from on any given night, base it on their performance in the games and their week of practice and that way you can keep the competitive spirit up and they're prepared for games."
Nazareth began to swing momentum from there, and even had two power play opportunities with sophomores Krystian Yorke and Sean Federow sent off. But, the Laker penalty kill, which was two for two on Friday night, thwarted the first chance, then Golden Flyers' defenseman Geoff Bagnall killed the second with a penalty of his own.
After 1:10 of four on four play, the Lakers had 50 seconds on the power play to close the frame. With just six seconds left on the opportunity, Galati delivered his second power play goal of the weekend from the left dot, 3-0 Lakers.
Not even two minutes into the second period, the Golden Flyers sent another player to the box and that time around Galati needed just two seconds to send one home.
At 1:38 of the second, sophomore Alex Botten won the first faceoff of the power play back to his linemate who sent a one timer from the high slot past Lane for Oswego State's fourth goal of the game.
From there, the Lakers continued to pressure Nazareth College and controlled possession for much of the period. However, in the final minutes of the second, junior goalie Justin Gilbert and the Lakers top defensive pairing of Gertsakis and sophomore Stephen Johnson needed to make some stops in their own end to keep the visitors off the board. Gilbert finished with 24 saves to earn his second career shutout, the first came at home last January in a 5-0 victory over Connecticut College.
Gilbert felt comfortable in net, but still deferred credit for his solid night to his teammates playing in front of him.
"I thought I was pretty solid," Gilbert said. "I felt good. I felt good watching the puck. Sometimes it's like finding a needle in a hay stack, but tonight it was like a beachball. My defensemen and forwards definitely helped me out a lot. That's for sure."
The third frame began with the Golden Flyers holding onto momentum and, at 1:48 of the period, senior Mike Wills gave them a man advantage opportunity when he was sent off for cross checking. The power play was short lived as Don Olivieri was called for tripping.
The Golden Flyers faced the same fate four minutes later when an interference penalty on Marcus Moles neutralized Krystian Yorke's roughing penalty, not even halfway into the man advantage.
Those instances allowed Oswego State to regain control of the game for the remaining 11 minutes and coast to its fifth straight victory to open the season.
The Lakers now sit at 5-0, 3-0 in SUNYAC play, and return to conference competition next Friday night at home against the College at Brockport Golden Eagles.