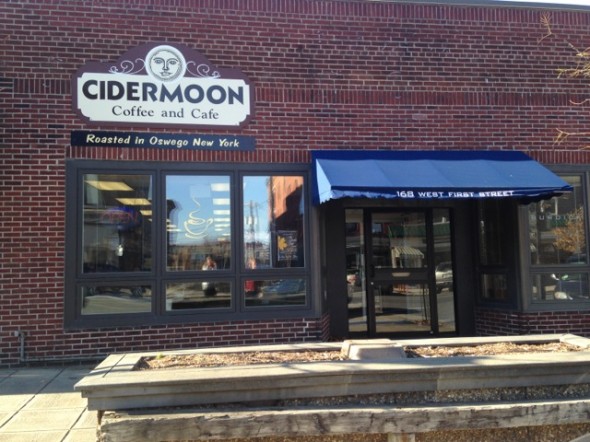 Cidermoon Coffee and Cafe, located at 170 W. First St., really knows how to handle all the cravings you may have. With a warm atmosphere and the type of people who make you feel at home, Cidermoon Coffee and Cafe is the place to be on any given day, and at any time.
From the moment you walk through the door, the warm smell of coffee beans and freshly made sandwiches will make you hungry even if you're not. With a comfortable couch and a hot beverage, you'll be feeling at home from the second you order your first coffee.
The Cidermoon Coffee and Cafe opened in July 2012 by owner Diane Dempsey.
"When I wanted to open this up, I did a lot of research first," Dempsey said. "I spent two years doing research before I opened it. At the time, no one in town was roasting their own coffee and I knew how to roast my own coffee. That was my business plan all along. The whole idea was to bring quality coffee to Oswego and different types of drinks."
With a wide assortment of coffee types and other beverages, Dempsey brings locally brewed coffee to another level. The cafe was originally located next door, but the cafe grew out of a small working space in a short six months and moved to its current address.
"When I was in school, I was taught that if you're opening a business, you need to make every square inch count, which was why we moved here," Dempsey said.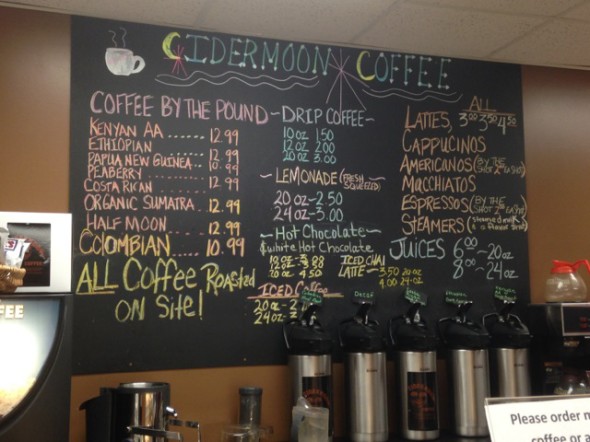 The unique title of the cafe is one you'll want to know more about.
"I started off with the title being Coppermoon Coffee, but I found out that a place in Illinois had that name and trademarked it, so I couldn't use it," Dempsey said. "I did a little research because I wanted to stay with the moon theme. Whenever there is a cider moon, which is considered a harvest moon, that's when they're picking the apples, and they're making the apple cider. It touches all of your senses and it creates great memories, which is what I want to do."
While coffee is the focal point of the cafe, the homemade food items deserve their fair share of recognition. With a wide range of sandwiches and breakfast meals, the made-from-scratch foods are a treat to eat at any time of the day. Breakfast starts at 6 a.m. and lunch starts at 11 a.m., but the biggest treat of all is to order from the breakfast or lunch menu at any time of the day.
The best selling blend is the Kenyan AA.
"It comes from Kenya and it is a dark, smooth roast," Dempsey said. "It doesn't have any bitterness, so it's the only coffee you can drink without adding sugar or cream."
Dempsey said the busiest time of year for the cafe is during Harborfest, but the holiday season comes in a close second. Dempsey also said her soup specials are a big selling point. With soup specials ranging from New England clam chowder to chicken chili and broccoli and cheddar, there is always something new to try. Next month, the seasonal drink titled "Cup of Joy" will be added to the menu.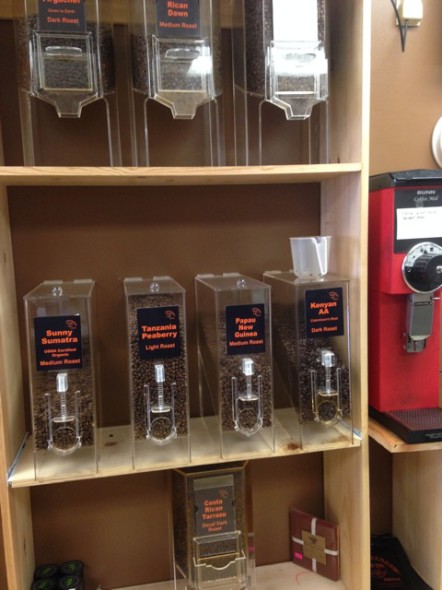 "The drink is a cup of Ghirardelli hot chocolate with a shot of espresso, topped with whipped cream and peppermint candy," Dempsey said.
This cafe will not disappoint. Every item on the menu is special in its own way. Make sure to swing by in December and grab your first Cup of Joy. For more information, check out its Facebook page, or visit its website at www.cidermooncoffee.com. Store hours are Tuesday-Friday 6 a.m. to 5 p.m., Saturday 9 a.m. to 3 p.m. and Sunday 9 a.m. to 1 p.m.