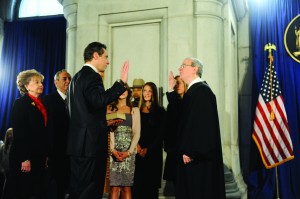 Gov. Andrew Cuomo was re-elected to another 4-year term in office on Tuesday in a Democratic Party sweep of statewide elections.
According to the New York State Board of Elections unofficial election result tracker, Cuomo and his lieutenant governor running mate Kathy Hochul won with 52.5 percent of the vote over Republican challenger Rob Astorino and Chris Moss with 39.6 percent.
Astorino, the Westchester County executive, and Moss, the Chemung County sheriff, won 46 of the 62 counties in New York, but that was not enough to take control of the state from Cuomo.
Notably, Green Party candidate for governor, Howie Hawkins, garnered 4.7 percent of the vote, putting his party on the D-line for ballots in the future.
In Oswego County, Cuomo was at a disadvantage with 36.7 percent while Astorino received 54.8 percent. Hawkins gained 5.7 percent of the vote in the county. According to the NYS BOE, there are 68,709 registered voters in Oswego County. However, according to election night results, 28,136 voters casted ballots at the polls.
On Astorino's campaign Facebook page, a picture of the Astorino and Moss families along with a thank you to supporters was posted.
"Sheila and I thank you for the tremendous amount of support you have shown my campaign over the last several months. We fought hard together in an effort to better the state we can all call home. Thank you for the time you dedicated to making phone calls, knocking on doors and reaching out to friends and family on my behalf. Your support gives me faith that New York will, one day, be great again," the thank you post signed by Astorino read.
Cuomo's Facebook page had a thank you note to supporters as well.
"Thank you, New York. Four years ago you honored me with the opportunity to serve as your governor, and tonight, you have done so again. It is a privilege to be your governor, a solemn duty, and a chance to serve the state that I have loved my entire life. From the bottom of my heart, thank you. Now let's get back to work," Cuomo's post read.
Meanwhile, Thomas DiNapoli was re-elected as state comptroller over his Republican challenger Robert Antonacci with 58.9 percent to 34.6 percent. Antonacci is the Onondaga County comptroller.
Attorney General Eric Schneiderman gained 52.7 percent of the vote to win over Republican John Cahill, who received 39.4 percent of the vote. Cahill was the chief of staff for former Gov. George Pataki.
Cuomo will be re-sworn into office on Jan. 19, 2015.