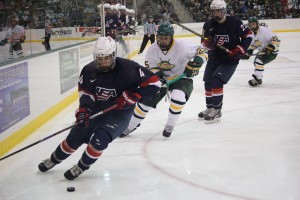 SUNYAC coaches voted Oswego State their preseason pick to win the conference last week and over the last two days both national men's ice hockey preseason rankings were released and each has Oswego State in the same place it ended last season, No. 3.
On Tuesday, USCHO.com placed the Lakers at No. 3 receiving 255 points, which put them 16 points back of the team that eliminated them from the NCAA Frozen Four last March, Wisconsin-Stevens Point. The No. 1-ranked team is the defending national champions, St. Norbert College.
This afternoon, d3hockey.com put Oswego State in the No. 3 spot, as well, with a total of 262 points, just nine behind the Pointers this time. The Green Knights were also named No. 1 in this poll.
Other SUNYAC teams in the rankings were the defending SUNYAC regular season champions SUNY Geneseo and the Lakers' rivals SUNY Plattsburgh. The Knights, the fourth team to reach the national semifinals in Lewiston last season, are ranked No. 4 in both polls, while the Cardinals took No. 9 in each rankings.
Some of Oswego State's non-conference opponents were also on each committee's radar. The Lakers' competition in the Frozen Dome Classic at Syracuse University's Carrier Dome on Nov. 22, Utica College, did not crack the top 15 in either poll, but it did receive 13 votes in USCHO.com's poll. Hobart College, who will make a trip to the Marano Campus Center Arena on Jan. 9, received votes in USCHO.com's poll as well.
The final team on Oswego State's schedule to get votes was Nazareth College with one vote in d3hockey.com's rankings. The Golden Flyers come to Oswego State twice this season, once for 50th anniversary weekend on Nov. 15 and again on Jan. 2 and 3 for the 2015 PathFinder Bank/Oswego Classic.
The Lakers begin regular season this weekend on the road. On Friday, they take on the Buffalo State Bengals, followed by a contest at SUNY Fredonia on Saturday. Both games will begin at 7 p.m.