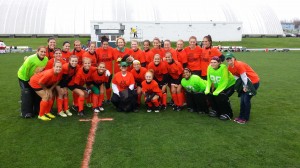 The Oswego State field hockey team came together to do more than defeat Wells College on Saturday as it hosted a game to raise awareness about Multiple Sclerosis (MS). The Lakers defeated the Express 1-0.
The game was decided in the 45th minute when sophomore Grace Rinaldi found space at the right post and tipped home a pass from sophomore Julia Calandra for the game's lone score. The goal was Rinaldi's sixth of the season, tying her for the team lead.
At the start of the season, the team was looking for a cause to support and senior captain Courtney Collins came forward with the suggestion of MS, a disease that both her mother and cousin (diagnosed this year) are currently battling.
"We wanted to do an awareness game and we felt that my mom has been here for four years supporting us, the Lakers, me and we just thought it'd be really nice to get together and doing something nice for her," Courtney Collins said. "She's an alumni, she's in the hall of fame, so it's special in that way because she's connected to the school and we just thought it was the perfect time to do it."
Anne Collins, Courtney Collins' mother, is a member of the Oswego State class of 1980. During her four years at Oswego State, she competed for the field hockey and women's ice hockey teams. She ended her career as the leading scorer in the field hockey program's history and the leading scorer among defenseman for the women's ice hockey program. Her career landed her in the 2006 induction class of the Oswego State Athletic Hall of Fame.
In the past seven years, Anne Collins has returned to Oswego State as one of the biggest supporters of Laker field hockey. Courtney Collins' older sister, Kelly Collins, played field hockey, as well as women's ice hockey and lacrosse, from 2008-2011 and Courtney Collins has played field hockey for Oswego State from 2011-2014.
"It was a fun run. I just am thrilled to see every single game," Anne Collins said. "There's two left and I don't know I'm kind of pushing away the feeling of 'Oh, no there's only two left.' But, I'm going to go to the Cortland game. I'm going to come here for the Geneseo game and I'm not going to miss a minute."
During pregame, Anne Collins was honored at midfield with a ceremonial ball drop surrounded by the entire Oswego State squad, donned in its orange warm up T-shirts, which read 'Made Strong' across the front and 'We don't know how strong we are until being strong is the only choice we have,' and orange socks.
Throughout the first half of play, momentum was entirely swung in favor of the home side. The Lakers ability to create pressure was prevalent as the ball only crossed midfield on several short-lived counter attacks by Wells College. Oswego State outshot the Express, 6-0, in the first half and forced junior Kendrick Wilson to make one of her eight saves.
The half presented five penalty corner opportunities for the Lakers, but an inability connect on one final pass to the face of the cage kept them off the board. However, play would pick up in the second 35 minutes of play.
Rinaldi's goal came after nine minutes, but was far from the team's first turn to goal. Oswego State had already taken three shots and taken its sixth penalty corner. The corner was the team's first of six in the half compared to Wells' two. The Lakers finished with a commanding 11-2 advantage in corners. Head coach Brandi Lusk was pleased with the play of the forwards throughout the game.
"That's part of college field hockey. You've got to recruit girls that are going to put the ball in the back of the net and make things happen," Lusk said. "I'm very lucky to have a very talented forward line with my starters and some of my second-string players that come off and go straight into the game."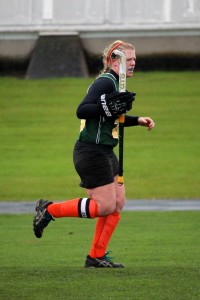 The goal would hold up as the home team continued to control possession, but with under a minute to play it appeared as though the Express had found their response.
First, freshman Nicole Sales and junior Cat Taylor were able to get a pair of shots off a penalty corner with 40 seconds to play. Also, a shot was put home but an obstruction penalty caused the equalizer to be waved off and secure the victory for the Lakers. Oswego State freshman goalie Sarita Charap has had a standout first season and her head coach was impressed by her ability to stand tall.
"That's why she's earned a starting position," Lusk said. "Her, Grace and Priscilla are all great goalies. You have to have a certain mindset, in order to keep yourself focused through the game. It's not easy when it's cold and rainy to make those big saves at the end. It means the world to our program and I'm very proud of her for doing that."
The win extends Lakers' winning streak to a season-high three straight. Its record currently sits at 6-7 (1-3 SUNYAC) heading into the season's final two games, both in conference. Courtney Collins wants to finish her final season strong, especially with a team she shares such a special bond with.
"I just want to finish it with a great season," Courtney Collins said. "I love these girls. They're the best team I've played with since I came here and we just want to finish strong and finish on a good note and be happy and have fun for the rest of the season."
Anne Collins just sees this final season and Saturday's game as a story returning to where it began 38 years ago.
"This is really special for me because it's coming full circle," Anne Collins said. "When I played here from 1976-1980 I just loved the sport and then when Courtney played it, it was kind of fun and when they came to Oswego it's full circle. It's a full circle moment. I was thinking that today when I came to the center of the field. It's just a beautiful thing."
Next up, a road contest at No. 20 SUNY Cortland on Wednesday, Oct. 22, before the season finale on Saturday, Oct. 25 against SUNY Geneseo, which is also Senior Day.