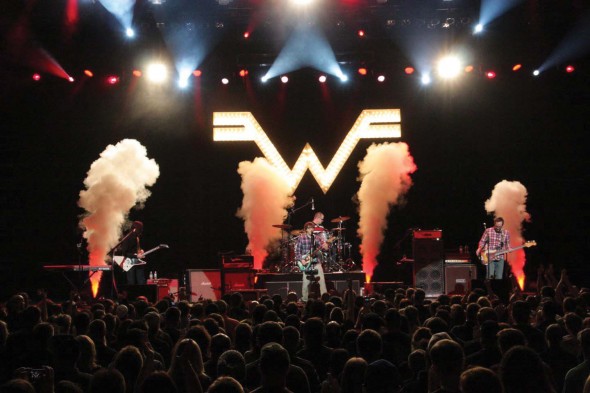 On Oct. 7, Weezer released a new album called "Everything Will Be Alright in the End."
Weezer was formed in 1992 by original members Rivers Cuomo, vocals and lead guitar, Patrick Wilson, drums, Matt Sharp, bass, and Jason Cropper on guitar. Their first album, "Weezer," also known as "The Blue Album," was released in 1994. The album peaked at number 16 on popular charts. Their first album saw the release of three of their most well known singles "Undone – The Sweater Song," "Buddy Holly" and "Say It Ain't So."
In later years, bassist Matt Sharp was replaced by Scott Shriner and Patrick Wilson was replaced by Brian Bell. The band also took a several year-long hiatus in between albums, while frontman Rivers Cuomo took some time to complete his English degree at Harvard University.
"Everything Will Be Alright in the End" is Weezer's ninth studio album. When the songs for the album were being written, there were 200 songs that were considered but only 13 songs were chosen to be on the album. Rivers Cuomo, the lead vocalist, is the primary writer for all of the songs.
"Recording this record felt like much more of a creative process than making the first album because when we made that record, we'd been playing the songs for a year and a half in the clubs," Cuomo said in an interview. "It felt like the songs were pretty much done and there wasn't room for much more creativity once we got into the studio."
"Back to the Shack" was the first single released off  the new album. Released in July 2014, "Back to the Shack" peaked at number five on big-name charts. The song has a bouncy alternative beat and fun lyrics. The line "turn off those stupid singing shows" takes a jab at shows like "The Voice" and "American Idol." "Back to the Shack" is reminiscent of the popular Weezer song "Say it Ain't So."
The second single off the album, "Cleopatra," was released on Sept. 8. The song begins with soft vocals with a fast beat and there is heavy guitar use in the song. Cuomo's singing is very soft until the climax of the song where he raises his voice just a tiny bit. The lyrics are very fast to match the heavy rock beat.
"The British Are Coming" is the sixth track on the album. The song has slow lyrics matched with a fast-paced guitar beat. The lyrics are very interesting. The song describes when the British came to America and Paul Revere's ride to light the lanterns to warn the people of the British. The guitar solo toward the end of the song is a very unique piece that adds a great rhythm to the song.
"The trick for me was how to make it sound new and not cliché," Cuomo said about the choice of guitar beats.
Weezer's new album, "Everything Will Be Alright in the End," is similar to some of their past albums. They seem to be returning to their original sound that we all knew and loved. The album contains unique guitar pieces and interesting lyrics. It is a very fast-paced and upbeat alternative rock album.
"All those voices you hear on the record are the voices that we've heard in our lives and in our careers in recent years," Cuomo said.