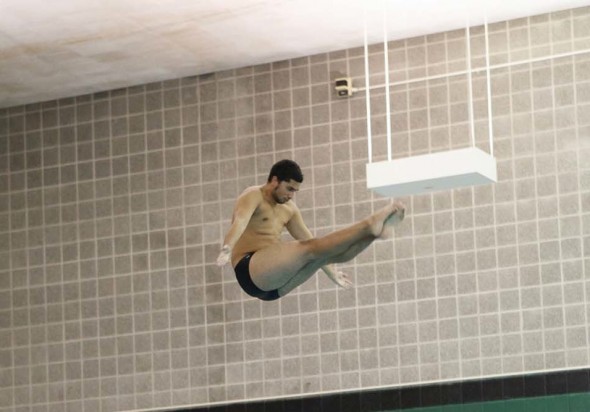 The 2013 to 2014 season was a step in the right direction for both the men's and women's swimming and diving teams after struggling during the previous two seasons, and each team hopes to continue moving forward this year.
After finishing in the bottom three spots out of nine in the SUNYAC Championships to end the 2011 and 2012 seasons, the teams showed promise last year. The men's team finished the year 6-4, with a 4-3 record against SUNYAC opponents, and finished fifth out of nine at the conference championships. The women finished up 3-7, 1-6 in the SUNYAC, and an eighth place finish out of nine at SUNYACs, just five points behind Buffalo State for seventh.
The men's team was led by Andrew Minnick, a senior since graduated, who was named second team all-SUNYAC for his performance in the 1,650-meter freestyle at the SUNYAC Championships. Seniors, like Katie Flood, and Sabia Filiaci, now a senior, led the women.
Head coach Mike Holman recognizes the impact of losing 12 seniors between the two teams but has high hopes for the season to come.
"We are young," Holman said. "There's a few talented kids and a few I think are going to be pretty good down the road. This year is going to be a learning experience for them. We're doing a lot of teaching, a lot of videotaping and stroke correction and stroke work to get these kids to the point where they can train well and ultimately swim fast."
The teams have been officially practicing since Sept. 29 and are now in week three. A crucial part of practice this year has been videotaping the athletes in the pool. Holman and his assistants use GoPro cameras with watertight housing to get video underwater, and then they download the footage onto an iPad to evaluate players on the spot. With the use of an app called Dartfish, the coaches take the footage and draw and make notations on it to give swimmers visual feedback.
Before the coaches were allowed to work with the players, it was the captains running practices. The teams were able to get in for open swims to do workouts, and a lot of times would go running, lift weights or even play water polo. Junior captain Zack Gerber is optimistic following those early season workouts and the first few weeks of official practices.
"This year is shaping up really well so far," Gerber said. "Everyone is feeling good. Everyone is getting after it in practices. We had a good turn out for preseason, good attitudes all the way around and I think everyone is driven to excel this season. I'm excited for it. I think it'll be a good year."
Gerber looks to lead by example this season and work hard during every practice in hopes of seeing the team follow his lead. He is eyeing the freshman class, which he is high on, to come in and contribute right away.
"I think the freshmen this year are a good bunch, and they're going to be a very good edition to the team," Gerber said. "They'll hopefully score points for us at SUNYACs. I really like them."
The freshmen are also expected to make headlines for the diving team, as well. Both Holman and Kevin Morgan, head diving coach, are expecting good things out of a freshmen class, which includes a diver on the women's team who has never competed before. On the men's team, Morgan sees potential for freshman Luke Snyder to make a run at the NCAA zone meet, the qualifying meet for nationals, along with returners, sophomore Ben Hale and senior Justin Berrios.
The men's diving team is not feeling the loss of seniors quite as much as the other sections of the team, and Morgan sees promise for the men to gain the team notoriety.
"The men's side has a little more experience with a sophomore who qualified for the zone meet and a senior who's been right on the cusp of it for three years, going on his fourth year," Morgan said. "So, I'm really looking for them to take it to the next level, really try to get two guys into the zone meet.  Honestly, I think we have the potential for a third with a freshman, Luke Snyder, who's in with us. So, for me, I really want to get Oswego back on the national map."
Another story with the diving team, on the women's side, is senior Kat McKinney. McKinney started out at Oswego State as a swimmer but picked up diving and now competes on both ends of the pool. According to Holman, she has done well with diving, and now the coaches have goals for her in her final year.
Holman is also high on Filiaci, whom he believes has the chance to even surpass the successful junior season she had, which included a 13th-place finish in the 50-meter freestyle race at the SUNYAC Championships.
"On the women's swimming side, Sabia Filliaci," Holman said. "She's a senior. She's had a good career. She had a great career last year. She just kind of figured things out at the end of last year. We've got pretty high hopes. I'm not going to sit here and put crazy high expectations on her, but we're expecting good things from her. I think she's going to have some pretty impressive swims, maybe the possibility of school record here or there."
An intriguing storyline on the men's side is fifth-year student Jimmy Pope. Pope has been with the team his entire career, but took a year off to go into the military, and upon returning to the team is still in the reserves. Holman is very happy to have Pope back for one more year.
"Now, he's back for a fifth year and we're glad to have him," Holman said. "He's a captain. He's someone that brings a lot of tradition and spunk to the team. He's actually got some pretty high goals himself. He's also made nice improvements through the years. He's a butterflyer, so we'd like to see him have a nice two fly. I'd like to see him well under two minutes. I know he wants to go even faster than that, but, for me, I'd like to see him under two minutes because that's a nice barrier to break."
Besides individual goals for athletes like Filiaci and Pope, Holman and his coaches are heading into this season with a focus on being successful, but also developing good people.
"Our objective is number one is to swim well individually," Holman said. "If we swim well individually, we'll be doing as well as we can as a team. Obviously, a big part of this is recruiting, so we're working hard at that. We've got a lot of talented kids coming to visit from all over the country. We've kind of gone national with our recruiting, and obviously we're hoping to bring in some really talented kids because we want to win, obviously. That's the goal.  But, we're going to do it the right way with good kids, quality character."